Advertisements
Suidooster is an Afrikaans TV series that centers around a small shopping and business centre situated in the fictional Cape Town suburb of Ruiterbosch where the lives and activities of three families are in focus.
The families are The Octobers, The Samsodiens and The Du Plooys. These families share their joys, sorrows, disputes, romances, revenge and retaliation, misunderstandings, and jealousies.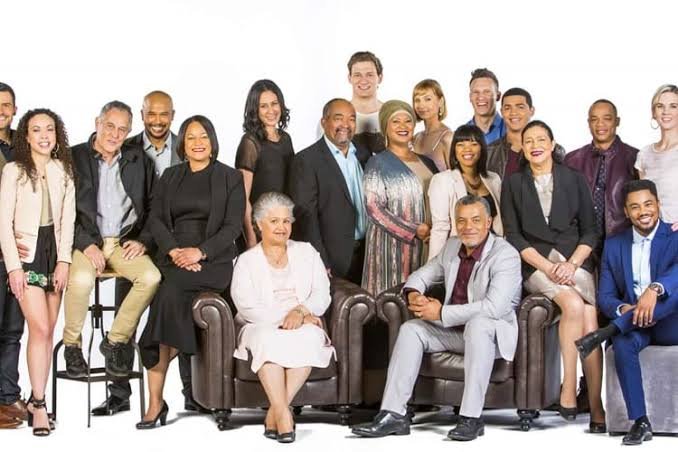 Friday 1 January 2021
Episode 1183
Siya tries to get clarity about something that he's been battling with for a long time. Ty gets unexpected competition for his new money-making scheme, while Nazeem makes a big announcement.
Advertisements
---
Monday 4 January 2021
Episode 1184
Siya's nightmares take him to a dark place, while AB is hurt by Nazeem's recent decision. Ty's house is also home for his new project, and that can only mean one thing: trouble.
Tuesday 5 January 2021
Episode 1185
Ty, Wade and Justin have an unexpected start to their day, while Danni tries her best to support Siya. Kaashifa wants to let bygones be bygones, but will Junaid agree to that?
Wednesday 6 January 2021
Episode 1186
Siya comes to a shocking realisation after meeting Denver's sister. Justin en Wade's battle to win Ty's room commences and Kate gets a huge surprise.
Thursday 7 January 2021
Episode 1187
Siya is grappling with the Denver situation, and can't get a grip on himself. Everyone in Ruiterbosch is talking about Nazeem' major decision, which once again leads to conflict in Ruiterbosch.
Friday 8 January 2021
Episode 1188
Siya reaches breaking point, while Mrs J tries to end the conflict between Bridgette and Nazeem. Ty plays mind games with Justin and Wade …
---
Monday 11 January 2021
Episode 1189
Zoe hooks her first big client – to Nazeem's irritation. Siya has a change of heart, but involuntary lets something slip with Chantel.
Tuesday 12 January 2021
Episode 1190
Siya's conscience won't leave him be, and he finds solutions in all the wrong places. Nazeem has a setback in his battle with Bridgette, but fights back. Ty is trying to figure something out …
Wednesday 13 January 2021
Episode 1191
Siya tries to keep Denver's sister at a distance. Bridgette uses all her power to stop Nazeem from expanding his business and Ty organises a small festivity to share the good news.
Thursday 14 January 2021
Episode 1192
Advertisements
Lee-Ann's siblings test her patience, while Tim and Nazeem bump heads. Ty's brings joy to many, but also causes trouble for some…
Friday 15 January 2021
Episode 1193
Danni is upset when she hears Siya skipped work the previous day. Tim comes up with a sly plan, while Joy thinks Wade and the boys can make money.
---
Monday 18 January 2021
Episode 1194
Chantel is grappling to come to terms with who Denver really was and approaches Danni for help. Nazeem is on a mission to stop Bridgette and Tim's new development, while Siya pretends that everything is okay but is struggling with new demons.
Tuesday 19 January 2021
Episode 1195
Siya is guilt-ridden, while the war between Bridgette and Nazeem takes a new turn. Kaashifa plays a prank on Nazeem.
Wednesday 20 January 2021
Episode 1196
Bridgette and Nazeem are anxious about the community meeting. The police want to speak to Siya and the guys host another house party.
Thursday 21 January 2021
Episode 1197
Lee-Ann makes a difficult personal decision after the public meeting. Wade thinks there's big money in their new venture, while Kaashifa anticipates a romantic disaster.
Friday 22 January 2021
Episode 1198
Siya is losing Danni, while Mymoena is back from Johannesburg. Meanwhile Bridgette sets her plan in motion to outwit Nazeem.
---
Monday 25 January 2021
Episode 1199
Chantel rubs everyone up the wrong way, while Wade has big news. Bridgette fights tooth and nail for her dream, and Imraan has something up his sleeve…
Tuesday 26 January 2021
Episode 1200
Everyone is excited for Kaashifa and Imraan but she misses someone. Siya's guilty conscience makes him ask Chris for help again. Wade has big plans.
Wednesday 27 January 2021
Episode 1201
Siya and Danni try to hide their problems, but Chris realises something is wrong. Nazeem tries to mend his relationship with Lee-Ann.
Thursday 28 January 2021
Episode 1202
Siya tries to pull his life together, while Nazeem's proposal causes friction. The Daniels brothers and Justin flourish with their moneymaking scheme.
Friday 29 January 2021
Episode 1203
Siya discovers Danni betrayed him, and sparks fly. Wade gets one shock another, and the Jacobs family has to vote on Nazeem…
Advertisements