Suidooster is an Afrikaans TV series that centers around a small shopping and business centre situated in the fictional Cape Town suburb of Ruiterbosch where the lives and activities of three families are in focus.
The families are The Octobers, The Samsodiens and The Du Plooys. These families share their joys, sorrows, disputes, romances, revenge and retaliation, misunderstandings, and jealousies.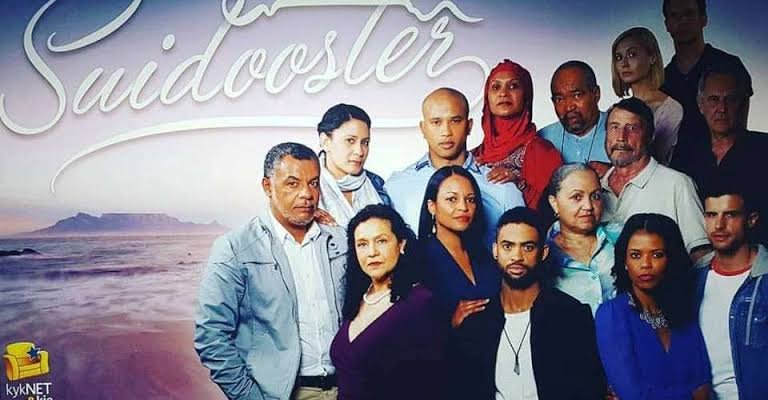 Monday 3 May 2021
Episode 1269
Danni feels unsure about the future, and Kaashifa has her hands full with Imraan. Bridgette tries to swallow her pride, but the universe seems to have other plans…
Tuesday 4 May 2021
Episode 1270
Tim tries to find out what Nicci is planning for the future. Imraan asks AB for advice and Wade has a new job.
Wednesday 5 May 2021
Episode 1271
Bridgette wants to offer Nicci a job but Lee-Ann and Tim have their doubts. Imraan convinces Kaashifa to do another cooking demo but things don't turn out as he expected. Mrs J is pressurised regarding Siya.
Thursday 6 May 2021
Episode 1272
Nazeem and Tim decide how to handle Nicci's appointment, while Imraan and Kaashifa clash even more. Siya faces a new challenge at the church …
Friday 7 May 2021
Episode 1273
Bridgette tries to fix what is broken. Imraan tries to make up with Kaashifa, while Pienaar takes on Siya.
---
Monday 10 May 2021
Episode 1274
It's Nicci's first day at the office, but sinister plans against her are already afoot. Siya is convinced that he has to resign at the church, while Kaashifa hides a new development from Imraan.
Tuesday 11 May 2021
Episode 1275
Siya and Danni prepare for a big change and Kaashifa faces a dilemma with her video shoot. Meanwhile Zoe feels increasingly threatened by Nicci.
Wednesday 12 May 2021
Episode 1276
Wade's eye catches someone special, while Siya takes a leap of faith at the church. Tim goes out of his way to push Nicci's buttons, and the Labarang celebration is full of surprises…
Thursday 13 May 2021
Episode 1277
Kaashifa decides the videos are more trouble than they're worth. Mymoena has a heart to heart with Rhafiek and Wade bumps into Anja again.
Friday 14 May 2021
Episode 1278
Earl pressurizes Kaashifa and she ends up lying to Imraan. Bridgette, Nicci and Zoe argue. Wade wants to impress Anja but then discovers something that makes things difficult.
---
Monday 17 May 2021
Episode 1279
AB en Mymoena are worried about Kaashifa, while Siya still feels that he can stand in for Pastor Phillips. Bridgette discovers evidence against Nicci …
Tuesday 18 May 2021
Episode 1280
Nicci and Zoe clash again, while Siya finds new hope. In the mean time Kaashifa and Imraan are at a crossroads.
Wednesday 19 May 2021
Episode 1281
Imraan is desperate, while the feud between Nicci and Zoe reaches boiling point. In the meantime Siya is waiting anxiously…
Thursday 20 May 2021
Episode 1282
Wade wonders how much long he can avoid Pienaar, while sparks fly at JPD. Imraan is not looking forward to spending a day alone with his father.
Friday 21 May 2021
Episode 1283
Things between Imraan and Reza are volatile, while Zoe makes a big decision. Siya wants to take the church to new heights, along with the blood pressure of some veterans …
---
Monday 24 May 2021
Episode 1284
Tim is anxious about Zoe's offer to Nicci. Kaashifa asks AB for help and Reza makes a shocking decision.
Tuesday 25 May 2021
Episode 1285
Reza and Imraan fight again and it leads to a shocking revelation. Nazeem and Tim are plotting but Tim is not so sure about Nazeem's scheme. Anja asks her dad to give Wade a chance.
Wednesday 26 May 2021
Episode 1286
Kaashifa tries to console Imraan about his past, while Nazeem plays a trump card against Bridgette. Anja invites Wade to dinner …
Thursday 27 May 2021
Episode 1287
Everyone is worried about Zoe, while Danni's clothes become a point of discussion. Reza returns home and Imraan is happy to be alone again with Kaashifa.
Friday 28 May 2021
Episode 1288
A wrongdoing from the past is finally revealed, and Bridgette's family is furious. Imraan goes into his shell after his difficult past is revealed, while Danni proves a point to Siya and the congregation.
---
Monday 31 May 2021
Episode 1289
Bridgette tries to save what she can. Kaashifa and Imraan believe that everything is back to normal in their marriage, while Kate gives Siya valuable advice.