Suidooster is an Afrikaans TV series that centers around a small shopping and business centre situated in the fictional Cape Town suburb of Ruiterbosch where the lives and activities of three families are in focus.
The families are The Octobers, The Samsodiens and The Du Plooys. These families share their joys, sorrows, disputes, romances, revenge and retaliation, misunderstandings, and jealousies.
Suidooster airs on kykNET and kykNET & Kie Mondays to Fridays at 18h30.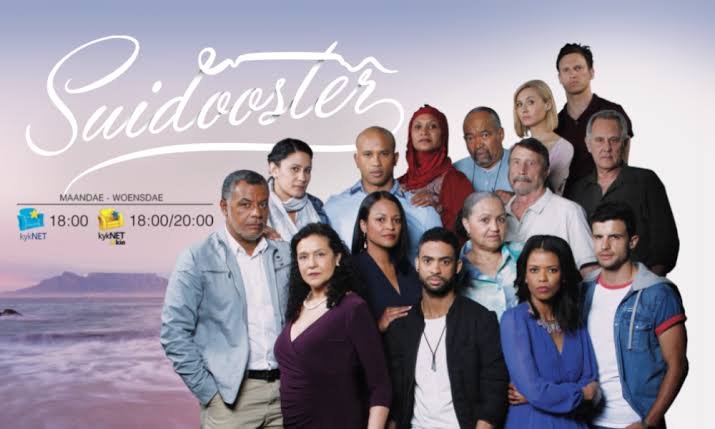 Tuesday 1 September 2020
Episode 1074
Lee-Ann makes a strange discovery, while AB has his hands full in the pharmacy. Joy buckles under the weight of her double life and Wade speaks his truth.
Wednesday 2 September 2020
Episode 1075
Joy and Nazeem's family dinner is rather awkward. Imraan makes a suggestion that leaves Kaashifa uncomfortable, while Farah makes the most of her opportunity.
Thursday 3 September 2020
Episode 1076
Kaashifa is upset about what happened between her and Imraan en he tries to fix things. Joy becomes increasingly anxious about her situation, while Wade is grappling with the difficult decision he has to make.
Friday 4 September 2020
Episode 1077
Imraan is upset after Kaashifa rejected his olive branch, while Wade becomes increasingly distraught about the difficult decision he needs to make. AB gives Farah some encouragement.
---
Monday 7 September 2020
Episode 1078
Wade prepares for big things, but it's easier said than done. The sparks fly between Kaashifa and Imraan, while Farah comes to Danni's rescue.
Tuesday 8 September 2020
Episode 1079
AB finds himself in a difficult situation with Farah. Bridgette lets Zoe have it straight from the shoulder and Kaashifa realises how much she likes Imraan.
Wednesday 9 September 2020
Episode 1080
Mymoena finally gets Farah invited for supper. Kaashifa and Imraan are uncomfortable after what happened and Wade is torn between the two women in his life.
Thursday 10 September 2020
Episode 1081
Wade needs to make big decisions, while Nazeem discovers something that makes his blood boil.  A storm tears through Ruiterbosch and has a strange effect on everyone…
Friday 11 September 2020
Episode 1082
Wade needs to do something that he finds extremely difficult, while Mrs J makes a decision that floors Lee-Ann. Bridgette notices something that makes her wonder.
---
Monday 14 September 2020
Episode 1083
Nazeem is furious and Joy is worried about what he might do to her. Kaashifa is still terribly upset about what happened and Zoe gets a fright when she finds out that Wade is late for work.
Tuesday 15 September 2020
Episode 1084
Tim gets shocking news, while Imraan and Kaashifa are still agonizing about their secret. AB feels guilty about Farah …
Wednesday 16 September 2020
Episode 1085
AB tries to keep his distance from Farah, but it's easier said than done. Wade has to make an impossible choice, while Kaashifa struggles with her guilty conscience.
Thursday 17 September 2020
Episode 1086
Kaashifa becomes paranoid about what she and Imraam did and AB has an appointment for the evening. Will Tim manage to get Zoe back?
Friday 18 September 2020
Episode 1087
Tim has good news for the family and Bridgette has news of her own. Wade keeps a distance from everyone, while both Zoe and Joy are heartbroken.
---
Monday 21 September 2020
Episode 1088
Ty receives good news, and somebody unexpectedly makes Nazeem's day. Rabia gives Imraan food for thought, while Joy fights for survival.
Tuesday 22 September 2020
Episode 1089
Rabia approaches AB for assistance and Zoe has an honest conversation with Tim. Lee-Ann and Nazeem's relationship deepens.
Wednesday 23 September 2020
Episode 1090
Imraan feels the pressure of his situation and realises that he needs to make a decision. Bridgette makes plans to undermine Nazeem, while Ty gets a new idea for making money.
Thursday 24 September 2020
Episode 1091
The conflict between Imraan en Kaashifa reaches boiling point, while Joy gets into trouble. Ty approaches potential investors for a project.
Friday 25 September 2020
Episode 1092
Bridgette and Chris' secret plan seems to be working, while Imraan tries to make sense of his feelings for Kaashifa. Lee-Ann is nervous about her appearance on a popular TV show.
---
Monday 28 September 2020
Episode 1093
Imraan knows what must be done to right his wrongs with Kaashifa. Bridgette anxiously waits on news from Chris, while she is at loggerheads with Bianca.
Tuesday 29 September 2020
Episode 1094
Mymoena finally figures out what AB's been up to and confronts him. Ty tries to track the owner of the car he's fixing up and Lee-Ann tries to explain to Nazeem why their sister is so hard on him.
Wednesday 30 September 2020
Episoode 1095
Bianca tries her best to support Joy and Ty plays detective. Carmen sweats buckets to keep Bridgette happy, while AB tries to do the right thing.