Suidooster is an Afrikaans TV series that centers around a small shopping and business centre situated in the fictional Cape Town suburb of Ruiterbosch where the lives and activities of three families are in focus.
The families are The Octobers, The Samsodiens and The Du Plooys. These families share their joys, sorrows, disputes, romances, revenges and retaliations, misunderstandings, and jealousies.
Suidooster airs on kykNET and kykNET & Kie Mondays to Fridays at 18h30.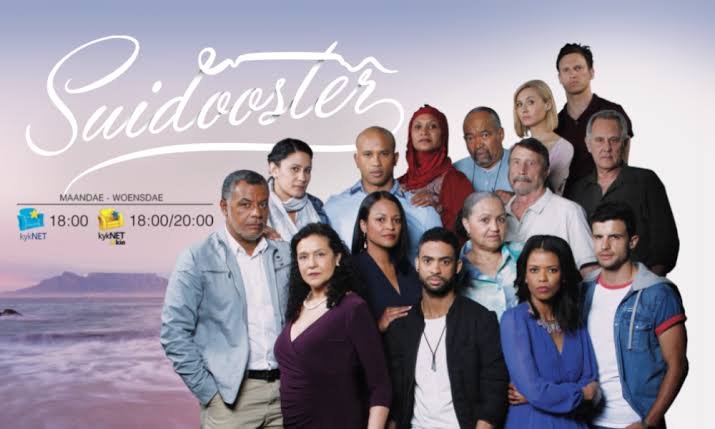 Wednesday 1 July 2020
Episode 1051
Lee-Ann and the Daniels brothers are up against another challenge. Tim gives Zoe free rein and Kaashifa has a plan to get back at Justin.
Thursday 2 July 2020
Episode 1052
Carmen and Rhafiek are in deep trouble. Ty has a long road of recovery ahead of him, while Wade and Joy are playing safe…
Friday 3 July 2020
Episode 1053
Imraan tries his best with Kaashifa and Zoe sees something that upsets her. Ty is bored out of his mind, while the young Samsodiens are biting their nails.
---
Monday 6 July 2020
Episode 1054
Carmen and Rhafiek are hopeful that their nightmare is coming to an end. Ty is extremeley bored in hospital and a well-known face returns to Ruiterbosch.
Tuesday 7 July 2020
Episode 1055
Zoe is increasingly suspicious of Joy and takes drastic steps. Rhafiek is desperate to get hold of money and Bridgette visits Mrs J to talk things through.
Wednesday 8 July 2020
Episode 1056
Jacob puts Carmen and Rhafiek under even more pressure, while Wade confronts Zoe. Kaashifa is fighting her feelings …
Thursday 9 July 2020
Episode 1057
Rhafiek has a plan to protect Carmen, but she's not sure it will work. The tension between Zoe and Joy boils over, while Kaashifa makes a brave decision.
Friday 10 July 2020
Episode 1058
Kaashifa wonders whether she should take a chance with Imraan, and Rhafiek struggles to keep his parents away from the flat. Ruiterbosch is abuzz after Joy's run-in with Zoe …
---
Monday 13 July 2020
Episode 1059
Rhafiek spins a story to his parents that creates even more problems. Imraan makes a decision about Kaashifa and Joy's past is creating an uproar.
Tuesday 14 July 2020
Episode 1060
Zoe's new project is full of obtacles and surprises, and Wade swallows his pride. Carmen panics and  overplays her hand.
Wednesday 15 July 2020
Episode 1061
Carmen and Rhafiek pick up courage, while it bothers Ty that Wade wants to keep his new relationship a secret. Zoe realises that Bridgette will be a tough customer to please.
Thursday 16 July 2020
Episode 1062
Rhafiek and Carmen have an unexpected crisis on hand, while Ty is concerned about Wade's relationship. Kaashifa decides to go out on a limb…
Friday 17 July 2020
Episode 1063
The pressure on Carmen and Rhafiek becomes unbearable, while Wade gets insight into Joy's situation. Bridgette catches Nazeem off guard.
---
Monday 20 July 2020
Episode 1064
Rhafiek and Carmen make desperate decisions. Mymoena confronts Nazeem about his plans, while Imraan surprises Kaashifa.
Tuesday 21 July 2020
Episode 1065
AB finds himself in a web of lies, and Zoe starts thinking she's never going to sell Bridgette's house. Wade no longer wants to hide his relationship with Joy.
Wednesday 22 July 2020
Episode 1066
AB feels Jacob should go to hospital, but Carmen doesn't agree. Nazeem spoils Joy's plans with Wade and Imraan meets a very important person.
Thursday 23 July 2020
Episode 1067
Imraan does damage control, while Nazeem puts Joy's limits to the test. AB has a solution for Rhafiek and Carmen's dilemma, but things take a different turn…
Friday 24 July 2020
Episode 1068
Joy is feeling more and more trapped by her circumstances. Bridgette surprises everyone with a party, while Tim finds out something he shouldn't have.
---
Monday 27 July 2020
Episode 1069
Joy finds herself in a difficult situation, while Tim confronts Zoe and Bridgette. Imraan is upset about how Kaashifa's grandmother is treating him and wants to take drastic steps.
Tuesday 28 July 2020
Episode 1070
Wade's romance becomes increasingly complicated, while Bridgette confronts Tim. A new face catches the staff at the coffee shop off guard …
Wednesday 29 July 2020
Episode 1071
Ty promises to protect Joy and Wade's secret, but he has serious doubts. Tim gives Bridgette a warning, while Rabia reaches out to Imraan.
Thursday 30 July 2020
Episode 1072
Joy has a difficult decision to make about her secret relationship. The newcomer worms herself into the Ruiterbosch community while Bridgette prepares to say goodbye to her home.
Friday 31 July 2020
Episode 1073
Chris gives Tim perspective and Farah twists AB's arm. Nazeem confesses his feelings for Joy, while Wade stays in denial.