Advertisements
Suidooster is an Afrikaans TV series that centers around a small shopping and business centre situated in the fictional Cape Town suburb of Ruiterbosch where the lives and activities of three families are in focus.
The families are The Octobers, The Samsodiens and The Du Plooys. These families share their joys, sorrows, disputes, romances, revenges and retaliations, misunderstandings, and jealousies.
Suidooster airs on kykNET and kykNET & Kie Mondays to Fridays at 18h30.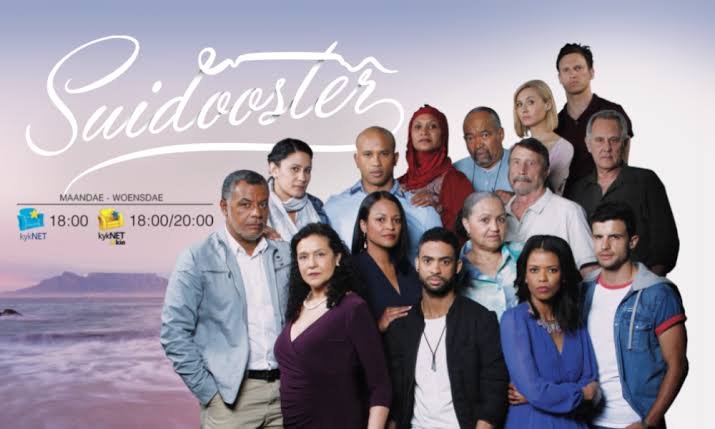 Monday 1 June 2020
Episode 1029
Advertisements
Bridgette is still missing in action, and Tim takes control of Suidooster Eiendomme. Lee-Ann refuses to accept Ty's decision, while Kate is at a fork in the road with her writing.
Tuesday 2 June 2020
Episode 1030
AB and Mymoena argue about her tasks at the chemist. Zoe reaches out to Wade again, while Kate feels anxious about how her story will be received.
Wednesday 3 June 2020
Episode 1031
Lee-Ann is making plans for Ty's future, but Wade doesn't approve. Mrs J calls in reinforcements to get Kate to change her mind, while Zoe gets a wake-up call.
Thursday 4 June 2020
Episode 1032
Zoe experiences inner conflict, while Ty struggles with the weight of his reality. Kate's story keeps on making waves in Ruiterbosch and Mrs J doesn't know which way to turn…
Friday 5 June 2020
Episode 1033
Carmen offers a new perspective that gets Ty thinking. Kate realises just how upset Mrs J is, and Joy has had enough of Nazeem.
---
Monday 8 June 2020
Episode 1034
Joy shares her business idea with Nazeem. Ty and Wade are excited about the new treatment, while Mrs J agonises about apologising to the Samsodiens.
Tuesday 9 June 2020
Episode 1035
Ty is furious with Lee-Ann and Siya, while Nazeem presents Joy with an opportunity. AB starts looking for a new assistant.
Wednesday 10 June 2020
Episode 1036
Ty seems to be doing better, but Lee-Ann confronts his new doctor. AB struggles to find a replacement for Michelle, while Joy plucks up courage for her visit to the bank.
Thursday 11 June 2020
Episode 1037
Siya struggles to accept Ty's choices, while Joy learns that not everyone is as enthusiastic about her plans as she is. Wade and Lee-Ann have a surprise in store for Ty …
Friday 12 June 2020
Episode 1038
Advertisements
Ty has to do something tough, and plucks up his courage. Joy stands up for herself, but offends Wade. Justin gets bad news.
---
Monday 15 June 2020
Episode 1039
Mrs J is suprised by a visitor, while Wade opens his heart to Zoe. Justin gets good news and Lee-Ann's frustration with Ty's doctor leads to an unexpected discovery.
Tuesday 16 June 2020
Episode 1040
Lee-Ann approaches Chris for help and Joy helps Wade out of a tight spot. Mrs J realises there was a misunderstanding at the pharmacy.
Wednesday 17 June 2020
Episode 1041
Tim enjoys taunting Zoe and Wade. Lee-Ann is unsure about doctor Freeman but Ty wants her to make the final decision.
Thursday 18 June 2020
Episode 1042
Lee-Ann is concerned about Ty, while Joy sets boundaries between her and Nazeem. AB is faced with a difficult decision …
Friday 19 June 2020
Episode 1043
Ty's energy levels are suddenly sky high, but Siya is worried about that. Kaashifa is angry about what happened to Justin, while Quinton plans a dangerous outing.
---
Monday 22 June 2020
Episode 1044
It's Zoe's birthday and Wade does his best to avoid her, while Joy wonders if she's wasting her time with him. Will Ty find out if Doctor Freeman's treatment is really working?
Tuesday 23 June 2020
Episode 1045
Tim and Zoe have a fallout, and Zoe makes a firm decision. Wade and Joy also have a fallout, and Joy also makes a firm decision. Ty is chuffed with himself, while Kate has a hard time with her grandson.
Wednesday 24 June 2020
Episode 1046
Imraan has his sights set on Kaashifa, but Justin gives him food for thought. Siya keeps on challenging Dr Freeman, while Ty and his loved ones remain unsure of the road ahead…
Thursday 25 June 2020
Episode 1047
Kate feels she is spoiling Quinton's holiday. It's a harrowing wait for Ty's test results, and Joy puts Tim in his place.
Friday 26 June 2020
Episode 1048
Everyone is concerned about Ty but he has made his choice and refuses to budge. Mymoena helps Joy with her make-up and there's trouble at the centre.
---
Monday 29 June 2020
Episode 1049
Freeman tries to manipulate Ty, while Nazeem shows Joy who is in charge. Kate surprises Quinton with a farewell gift.
Tuesday 30 June 2020
Episode 1050
It's the day of Ty's big operation, and the whole of Ruiterbosch is on edge. Justin challenges Imraan to a physical contest, while new warning lights are flashing for Zoe and Tim's marriage.
Advertisements