Advertisements
Basani Maluleke (born in the 1970s in Pretoria South Africa) is the first female Chief executive officer of the African Bank.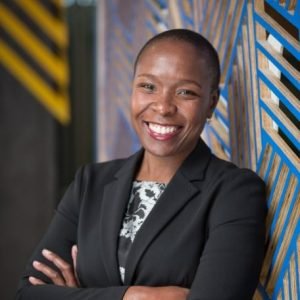 Education
Basani Maluleke is an admitted attorney of the High Court and holds a B. Com and LL. B degrees from the University of Cape Town. Added to these qualifications is an MBA from the Kellogg School of Management at Northwestern University.
Career
Prior to joining the African Bank, she also served as director of Transcend Capital. She has in excess of ten years of financial services experience in the areas of corporate finance with Rand Merchant Bank and private banking as the Head of FNB private clients.
She has recently been identified as a potential successor and the first black-and-female bank CEO at African Bank.
Advertisements
Presently, she is Chief Executive Officer at Residual Debt Services Ltd. Ms. Maluleke is also on the board of Transcend Capital and ATA Capital (Proprietary) Ltd.
In the past, Ms. Maluleke held the position of Chief Executive Officer of African Bank Holdings Ltd and Chief Executive Officer & Executive Director at African Bank Ltd. (a subsidiary of African Bank Holdings Ltd).
Basani Maluleke Net Worth
She has an estimated net worth of $1 million which she has earned as a businesswoman and Chief Executive Officer.
Twitter
Advertisements