Days of Our Lives focuses on the daily suspenseful adventures faced by the people of Salem from the love stories, family troubles to flowering courtships.
Premiere episodes of Days of Our Lives air on e.tv from Mondays to Fridays at 16h45.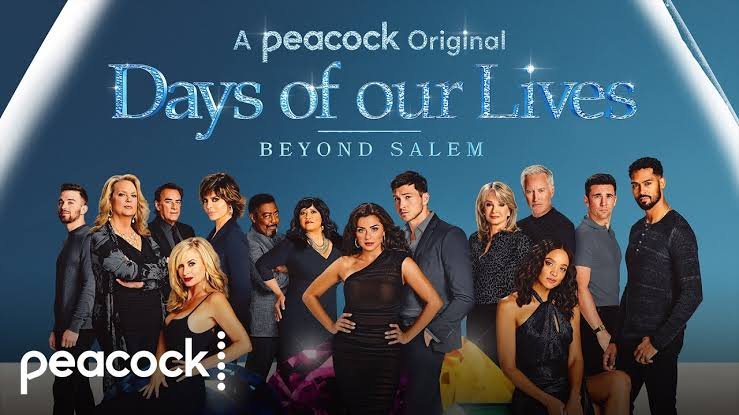 Monday 1 November 2021
Episode 13443 (557)
Eric is stunned to learn Xander has used the tape of Nicole's confession of murder to blackmail her into a loveless marriage. John, Marlena, and Sami review the security footage and see Xander is the one who shot Marlena.
Sami makes a vow of her own to find Kristen and get the truth about EJ. Brady and Kristen stop at a motel overnight. Valerie points out Eli might not be hanging out with Sheila if Lani hadn't broken his heart. Lani overhears Sheila badmouthing Abe to Eli, and the two women get into it.
Tuesday 2 November 2021
Episode 13444 (558)
Eric calls Roman and informs him that he found Nicole and Xander is keeping her as his prisoner. Xander torments Nicole. After Xander leaves, Eric returns to Nicole and vows to help her. After they wake, Kristen asks Brady if he is ready to move on with their new life.
Stefan hopes for another message from "Gabby", but then rakes Eve over the coals for the poor performance of Basic Black. Later, Sami visits Stefan. John stalls Hope from seeing Marlena while Sami enlists Rafe's help to find EJ.
Wednesday 3 November 2021
Episode 13445 (559)
Sami makes Stefan an offer he can't refuse. Kristen meets up with Xander, revealing that they are working together. Desperate to be reunited with Eric, Nicole believes the only way to get away from Xander is to kill him.
Marlena and Kayla worry about how they'll keep Hattie from causing serious problems for them now that she's married to John. Meanwhile, Hattie flirts with Roman at the Brady pub. Later, Roman speaks with Kayla about Steve…
Thursday 4 November 2021
Episode 13446 (560)
Nicole and Eric make love at long last. Xander wheels out the mystery patient, and Kristen talks to him. The patient reacts to mention of Sami's name… Meanwhile, Brady gains entry into the hideout. Later, it seems he's come face to face with an old enemy…
Lucas and Chloe tell Kate about the baby. Meanwhile, Mimi makes plans for her and Bonnie to disappear in opposite directions. Later, Mimi is furious when she comes across Chloe with her daughter. Maggie breaks the news to Jennifer that Eric went to Nashville to find Nicole.
Friday 5 November 2021
Episode 13447 (561)
As Lucas informs Bonnie that he is suing for sole custody of the baby, Mimi pleads with Chloe to get Lucas to reconsider. Later, Eli surprises everyone. Eric and Nicole bring Sami up to speed on Nicole's predicament and the three consider the possibility that Xander is in cahoots with Kristen.
As Victor consoles Eve about her breakup with Brady, Brady discovers the mystery patient. Xander knocks Brady out. Kristen confronts her lover
---
Monday 8 November 2021
Episode 13448 (562)
Abigail tells JJ there's nothing wrong with her and floats a theory that maybe Gabi is behind the wig and the text sent to Stefan. Meanwhile, Chad tells Gabi that Abigail is resisting help. Gabi scares Chad by suggesting "Gabby" might be a danger to Thomas. Later, Gabi continues her plan.
Rafe wants Hope to let him help her investigate how evidence was planted to frame Ben. Ciara has an unbidden romantic dream of Ben, and she covers with Tripp. Meanwhile, Claire suggests to Ben they team up to try to break Ciara and Tripp up.
Tuesday 9 November 2021
Episode 13449 (563)
Gabi drugs Abigail once again. Later, Abigail awakens just as Stefan comes home – and thinks "Gabby" has returned. JJ tells Chad about Abigail's suspicion that Gabi is setting her up. Chad is skeptical. Later, Chad finds Gabi passed out.
Stefan questions Jennifer about Abigail. Jennifer warns him to stay away from her daughter. Hope tells Rafe she thinks Ben planted the evidence, hoping to pin it on Hope. Later, they come upon Ben. Ciara and Tripp find Claire and Ben shaking hands.
Wednesday 10 November 2021
Episode 13450 (564)
Gabi tries to make Chad believe that "Gabby" attacked her. Meanwhile, Stefan has found Abigail dressed like "Gabby". Later, Gabi tells Kate that she must backup her story. Sami bursts into Kristen's motel room but there's no sign of Kristen. The motel manager tells Sami that Kristen was here with a man.
Eric and Nicole are in touch about Eric's plan to follow Xander. Xander almost catches Nicole. Meanwhile, Eric meets up with Sami, who tells him Brady and Kristen are together. Xander finds Brady, who's loosened his bonds. Xander then goes to Kristen, who's decided to take drastic action.
Thursday 11 November 2021
Episode 13451 (565)
Belle is caught in the middle between Mimi and Chloe when Mimi confides in her friend regarding Bonnie's baby scam. Lucas shows up with the baby. Later, Roman is surprised when Rex returns to Salem.
Sami accuses Brady of being in cahoots with Kristen while Eric pleads with Kristen to let him go so he can save Nicole from Xander. Meanwhile, Xander vows to kill Eric and flee with Nicole.
Friday 12 November 2021
Episode 13452 (566)
Nicole searches frantically for Eric. Instead, she finds Brady. Sami finds Kristen with Eric and demands to know where EJ is. Meanwhile, it's revealed that Dr. Rolf is alive and about to inject the mystery patient.
Suddenly there's a massive explosion. Xander and Kristen flee. Sami tries to find EJ as Brady and Eric try to save Nicole and Holly. In Salem, Mimi explains to Belle that Rex is the baby's father. Meanwhile, Rex meets Baby Bonnie. Also, Rex shares news of his engagement with Roman and Lucas.
---
Monday 15 November 2021
Episode 13453 (567)
Eric comes to and realizes Brady knocked him out and dragged him away from the fire. He's desperate to go back in after Nicole. Sami emerges dragging the mystery man. Everyone goes to the hospital and later, Nicole's fate is revealed.
Jennifer, Chad and JJ try to convince Abigail her alters are back and she needs treatment. Abigail finally agrees to see Marlena, but when they run into Kate at the hospital, Abigail accuses Kate making up the story about "Gabby". At the same time, JJ goes to check on Gabi, but finds her purse instead. Paul overhears Will telling Sonny he called to just hear his voice. Will covers, and Sonny shows up to explain. Later, Will and Sonny miss each other, but still believe they did the right thing to help Paul.
Tuesday 16 November 2021
Episode 13454 (568)
Abigail lays into Kate about aiding/abetting Gabi. She then heads over to the Kiriakis mansion where she lays into Gabi. JJ, who is also there, tries to talk his sister down. Chad shows up, wants to have her admitted. Later, Abigail winds up at Stefan's. Gabi catches JJ about to go through her purse and calls him on it.
Stefan dreams of "Gabby" and realizes that he must step it up if he ever intends to get her back. Eli puts himself out for Sheila while Sheila is about to dig another hole with Abe. Lani, off her deep feelings for Eli, comes to the rescue. At the same time, Julie learns of Eli's friend Sheila and offers to give her a job.
Wednesday 17 November 2021
Episode 13455 (569)
John asks Roman to pretend to return Hattie's feelings in order to convince her to divorce John and go back to prison. Hattie calls up Bonnie, and the two women catch up, learning about each other's schemes. Later, Bonnie is still drunk when Chloe comes by.
Earlier, Lucas learns Belle is Bonnie's lawyer and that Bonnie is countersuing for full custody. Belle and Mimi stop by, and Chloe rips into Belle for taking Bonnie's side. Later, Mimi is enjoying time alone with her baby when Rex moves up. Earlier, Rex visits Kate and tells her he's engaged. Kate fears the worst.
Thursday 18 November 2021
Episode 13456 (570)
Rex and Mimi reunite. Mimi learns Rex's fiancée is coming to Salem to meet Rex's parents. Later, Rex receives a call from his fiancée who has arrived in town, who is none other than Maggie Horton's daughter, Sarah.
Chloe finds Bonnie on her boozy brunch and wants to know where Baby Bonnie is. Bonnie covers, and skeptical Chloe isn't convinced, but Lucas shows up and wants to know where his baby is. Mimi shows up and when she hands the baby over to Lucas, Chloe realizes that she's emotional.
Lucas confides in Maggie who cautions him not to get his hopes up just in case he loses. Despite being unable to find Abigail, Chad moves forward with his plan to have her committed. JJ and Gabi look for Abigail at the DiMera mansion.
Friday 19 November 2021
Episode 13457 (571)
Sami is anxious to find out if the burned man is EJ or not, but Kayla says that it's not possible yet. Sami comforts Eric, who grieves for Nicole. Eric realizes he must break the news to Maggie. He's surprised to find his half-brother Rex there along with Maggie's daughter, Sarah.
---
Monday 22 November 2021
Episode 13458 (572)
Hattie presses Roman to prove his love for her by taking her to bed. Brady reveals to Eve that he slept with Kristen as Jennifer learns of Nicole's death, and that before she perished that she was intimate with Eric. Eve cuts ties with Brady, and then blames Jennifer for all that's gone wrong.
Claire continues with her plan to break up Tripp and Ciara with Ben as an unwilling ally. Meanwhile, Hope and Rafe follow one last lead to prove Ben's guilt in the fire that almost took Ciara's life. Ben shares with Ciara a dark story from his childhood. Tripp makes a confession to Claire.
Tuesday 23 November 2021
Episode 13459 (573)
It's Halloween night, and Hattie has a terrifying nightmare which involves, Abigail, Stefan, Julie, Doug, Eli, Hope, Kristen, Rolf, Andre, and Anjelica. After she wakes up, she speaks with John regarding their marriage.
Wednesday 24 November 2021
Episode 13460 (574)
Sami gets Kayla to take the mystery patient's blood to check the DNA. Kayla reminds Sami she needs a parent or child's DNA to match. Sami confides in Lucas, then goes to Susan. Sami and Chloe arrive at the hospital at the same time, demanding Kayla perform a DNA test.
Chloe tells Belle she thinks Mimi is the real mother of baby Bonnie and confides all the reasons for her suspicions. Chloe's still suspicious when she sees Mimi out again with the baby. Lucas brings Baby Bonnie to Bonnie for another court appointed visit. Bonnie is flirtatious. Mimi sees and is not happy.
Susan has a psychic vibe that Rex will soon be a father. Sarah swears she's not pregnant. Maggie convinces Rex and Sarah to let her throw them an engagement party.
Thursday 25 November 2021
Episode 13461 (575)
Sami and Chloe await for their respective DNA results. Kate and Belle offer support to Sami as she waits. Maggie and Roman throw an engagement party for Sarah and Rex. Sarah kindly extends an invitation to Mimi and Bonnie. Belle hints that maybe Lucas should drop the custody case.
Friday 26 November 2021
Episode 13462 (576)
Sami asks Belle to stay with her as she opens the DNA results. Susan is with Victor when she has a premonition that EJ is alive. At Rex and Sarah's engagement party, Chloe reveals that Mimi is Baby Bonnie's mother. Rex realizes the baby is his and admits he cheated on Sarah. Bonnie slips out. Lucas is crushed.
---
Monday 29 November 2021
Episode 13463 (577)
Belle is reunited with Marlena. John and Belle make peace. Sami confides her fears about EJ to Marlena. Susan sees the DNA test. Bonnie asks for Hattie's help now that everyone knows she lied about the pregnancy. Hattie can't help her.
Bonnie says goodbye to Mimi and the baby. Mimi lets Rex hold his baby. Afterwards, Rex, still reeling, goes to find Sarah. Meanwhile, Sarah unleashes her fury about Rex cheating on her as Maggie comforts her. Also, Lucas says goodbye to the baby. Chloe comforts him.
Tuesday 30 November 2021
Episode 13464 (578)
EJ is missing and Sami shares this with Kayla. Later, Sami confronts Susan. Paul is being discharged, and he and Will make plans to go to their new apartment. Gabi learns from JJ that Abigail has out maneuvered her and she's furious. She goes to Kate to put a new plan in motion, but Kate is reluctant.
Chad arrives at the DiMera mansion, desperate to see Abigail, but Stefan has him thrown out.