Dr Malinga (born 7 July 1980 in Themba) whose birth name is Goodwill Malinga is a popular South African record producer and musician.
Malinga is signed to Lingas Entertainment, Universal South Africa, Universal Music, Universal Music (Pty) Ltd.
His First Album was released on October 2014 titled First injection. He won South African Music Award for Best Kwaito Album.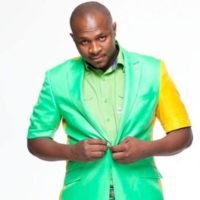 Dr Malinga Age
He was born on the 7th of July 1980 in Themba, Hammanskraal in South Africa. As of 2020, he is 40 years old.
Dr Malinga Wife
He got married to Boitumelo Mosupye in 2013 and together they have a daughter and his wife also has a son from another relationship.
Dr Malinga House
He bought a house worth R 3.2 million. Malinga encouraged people to believe that anything is possible if you believe and work hard.
Net Worth
He has an estimated net worth of $100,000 to $1 million which he has earned through music.
Songs
Akulaleki
Diphiri
Sengizwile
Uyalivuselela
Giya Giya
Sizo Phumelela
Oteng
Ngikunika Uthando
Go On
Thandaza
Nkqo Nkqo
Othengayo
Ungibulala Crazy
Xalifika
Sengibuyile
Inguboyamehlo
Mngani Wenyoka
Motlalepule
Bakulindile
Ngixolele Mama
Moshito
#Bringbacklobola
Boitumelo
Mntwanomuntu
Petronella
Nadia
Pika
Ungashintshi
Crazy Woman
I'm Yours
Inthliziyo Ye Liche
Mhloniphe
Linga Entertainment
Twitter
Instagram
Contact Details
Lingas Entertainment which is his company makes bookings. If you need to contact him, you can find him on the following handles:
Video
Dr Malinga News
Dr Malinga plans to build his own resort & water park
Adopted from TimesLive.co.za
Dr Malinga has dubbed himself "a man with solutions" and his latest business venture is a resort and water park for the African summer.
The musician is on a mission to leave generational wealth in his family, come hell or high water, and told TshisaLIVE he is building two resorts to provide a "solution" in his hometown of Hammanskraal and Siyabuswa.
"Everyone that knows me, knows that I am a solutions guy. I think of solutions and the reason I am different from other people is that I always look for ways to bring those solutions to people.
So now, I am busy building a resort, one that will have swimming facilities and chillas equipment like braai stands, one in Hammanskraal and one in Siyabuswa," he said.
Dr Malinga, who burst into the industry with his high-waisted pants and high kicks almost a decade ago, has launched many products under his name and figured why should he have a regular store to sell his merchandise when he can have a resort that doubles up as a one-stop-shop for everything he sells?
"I am all about making sure that my family and the families of people around me are taken care for in the future. I am not afraid to fail and the one thing I am great at is trying.
So I am going to make this (the resorts) happen. So that people are employed and my products have a home. Yes, it is ambitious but everything that is meant to be will be."
He told TshisaLIVE that he has a dream to eventually be international and take his businesses into Africa.
The musician also emphasised that he hasn't neglected making music and on Thursday dropped a new song titled, Indlela, featuring Kwesta.