Getroud met rugby is a South African television series that revolves around four stars of a Johannesburg rugby team and their wives as they become involved in various interconnected scandals.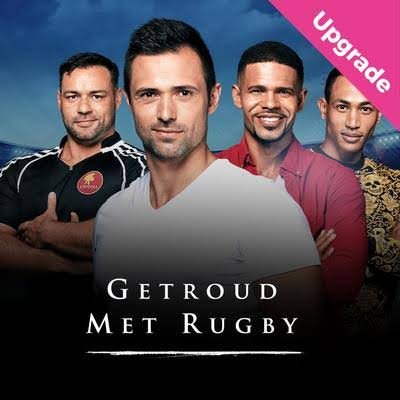 Friday 1 October 2021
Episode 55 
The tension between Liam and the Stryders runs high. Renate has a plan for the concert. Amanda and Kristien bump heads.
---
Monday 4 October 2021
Episode 56
Liam quits at the Stryders. Bart puts Kristien in a difficult position. Renate shows off her new talent.
Tuesday 5 October 2021
Episode 57
Bibi, Magda and Renate practise their trio. The pompoms find out about Liam and Candice. Amanda has her hands full with Bart.
Wednesday 6 October 2021
Episode 58
Liam's mom comes to visit. Kristien wants to expand her business. Jana comes to Bibi and Magda's rescue.
Thursday 7 October 2021
Episode 59
Ronnie is in the hospital. Simon looks after the babies, on his own. Ryno and Meyer get to know each other.
Friday 8 October 2021
Episode 60
The Stryders hosts a fundraiser for the benefit of organ donation. Liam is back at the Stryders. Ivy feels guilty about Ronnie.
---
Monday 11 October 2021
Episode 61
Nesie reveals Pottie's new novelty. Liam visits Ronnie in hospital. Meyer is down in the dumps about Ryno.
Tuesday 12 October 2021
Episode 62
Meyer wants to tell Ryno the truth. Buks tries his luck with the ten nails. Ivy struggles to forgive Ronnie.
Wednesday 13 October 2021
Episode 63
Amanda struggles without Kristien in the office. Simon thinks Renate is overprotective of Regardt. Meyer tries to get over his feelings for Ryno.
Thursday 14 October 2021
Episode 64
Bart's past threatens to catch up with him. Lulu gets a nice surprise. Buks and Blitz decide to work together for the competition.
Friday 15 October 2021
Episode 65
Detective Breytenbach visits the stadium. Ryno meets Liam's ex-boyfreind. Lulu has a date with an old flame.
---
Monday 18 October 2021
Episode 66
Schalk and Fafa receive big news. Nesie gets things in place for Buks' campaign. Ryno is upset about Meyer.
Tuesday 19 October 2021
Episode 67
Lulu introduces Nico to Anja. Lienkie and Nesie are in a duel over the sexiest man competition. Liam receives bad news.
Wednesday 20 October 2021
Episode 68
The competition between Lienkie and Nesie turns ugly. Lulu must make a decision about Nico. Kristien gets her job back.
Thursday 21 October 2021
Episode 69
Schalk and Fafa receive very big news. Nesie teaches Buks how to be sexy. Simon meets Nico.
Friday 22 October 2021
Episode 70
Maryke tries to make Renate see the light about her germ phobia. Things are uncomfortable between Ryno and Meyer. Schalk meets Bart's informant.
---
Monday 25 October 2021
Episode 71
Simon worries about the new man in Anja's life. It's over between Ryno and Meyer. Ivy tries to change Candice's mind.
Tuesday 26 October 2021
Episode 72
Lienkie and Nesie compete furiously. Ronnie begs Candice for forgiveness. Simon and Renate invite Lulu and Nico for a braai.
Wednesday 27 October 2021
Episode 73
Lienkie and Nesie receive bad news about the competition. Simon feels threatened by Nico. Ryno visits Meyer again.
Thursday 28 October 2021
Episode 74
Simon reaches breaking point with Renate. Amanda puts her new plans into motion. Blitz and Buks get caught out.
Friday 29 October 2021
Episode 75
Simon finds Renate and the baby. Ryno and Meyer have their first official date. Lulu is scared she and Nico are taking things too fast.