Advertisements
Getroud met rugby is a South African television series that revolves around four stars of a Johannesburg rugby team and their wives as they become involved in various interconnected scandals.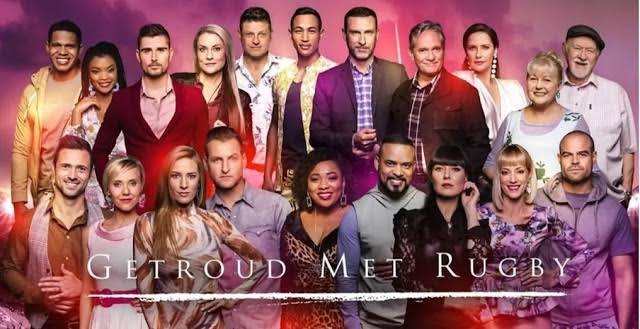 Monday 3 May 2021
Episode 206
Candice and Markus can't keep their hands off each other. The pompoms have a crisis. Nesie and Buks get back together.
Tuesday 4 May 2021
Episode 207
Advertisements
New rumours emerge about Candice and Markus. The salon suffers because of Maryke's reputation. Lienkie needs help in the office.
Wednesday 5 May 2021
Episode 208
Maryke is under pressure to sell her share in the club. Candice struggles to forget about Markus. Maryke comes to the pompoms' rescue.
Thursday 6 May 2021
Episode 209
The pompoms meet the strippers. Markus makes a drastic decision. The club causes tension between Maryke and Bibi.
Friday 7 May 2021
Episode 210
The Stryders play a game. Maryke must choose between the salon and the club. Liam confronts Markus.
---
Monday 10 May 2021
Episode 211
Jana wants to write an article about Ryno. Renate is fed up with her pregnant body. Liam receives an upsetting message.
Tuesday 11 May 2021
Episode 212
Candice gets panicky about Chanel's messages. Kristien finds out about Amanda's secret. Renate is suspicious about Simon.
Wednesday 12 May 2021
Episode 213
Amanda and Reitz's secret is leaked. Liam finds out about Candice and Markus. Blitz and Johan have a surprise for Lienkie.
Thursday 13 May 2021
Episode 214
Candice and Liam's love problems worsen. The slingshot competition gets into gear. Renate wants to lose weight.
Friday 14 May 2021
Episode 215
The men have a photo shoot with a gay magazine. Candice and Liam are at wits end. Maryke must still find a buyer for the club.
---
Monday 17 May 2021
Episode 216
Advertisements
Cheryl and Liam's scandal is leaked. Candice fights for her marriage. Maryke finds a buyer. Renate feels threatened by Lulu.
Tuesday 18 May 2021
Episode 217
Everyone gets ready for the slingshot competition. Lienkie confronts Bart about the Stryder's double standards. Simon is worried about Renate.
Wednesday 19 May 2021
Episode 218
The Stryders attrack new followers on social media. Renate still doesn't want to eat. Nesie is worried about her future.
Thursday 20 May 2021
Episode 219
Simon is frustrated with Renate's obsession. Lienkie isn't intimidated by Bart. Amanda is uncomfortable with an article.
Friday 21 May 2021
Episode 220
Nesie starts with her internship at Bibi's. The Stryders have a rebellion on their hands. Renate doesn't look forward to an awards evening.
---
Monday 24 May 2021
Episode 221
Amanda feels uncomfortable with photos of Reitz and Ryno. Renate regains her appetite. The Stryders' school visit is a disaster.
Tuesday 25 May 2021
Episode 222
The Stryders are held hostage at the high school. Yvonne supports Lulu and Renate. Bart shows his true colours.
Wednesday 26 May 2021
Episode 223
Nesie is still searches for her calling. Renate discovers something about her mom. Pine is sceptical about Bart's motives.
Thursday 27 May 2021
Episode 224
Nesie shows up for her first day at the stadium. Yvonne has a surprise for Renate. Kristien and Pine have a disagreement.
Friday 28 May 2021
Episode 225
Liam wants to move out. Nesie works the men. Renate feels neglected with Yvonne spending time with Lulu.
---
Monday 31 May 2021
Episode 226
Nesie realises the corporate world isn't for her. Yvonne drives Lulu up the wall.  Rumours about new pompoms stirs up anger.
Advertisements