Advertisements
Lithapo centers majorly around Nolo, Pabi and the Hlongwane family. It begins with Nolo setting out to find his father, a man he never knew after his mother's sudden death. A love triangle develops when he falls in love with Pabi (played by Lorraine Moropa), a young woman who also becomes involved with the head of the Hlongwane family.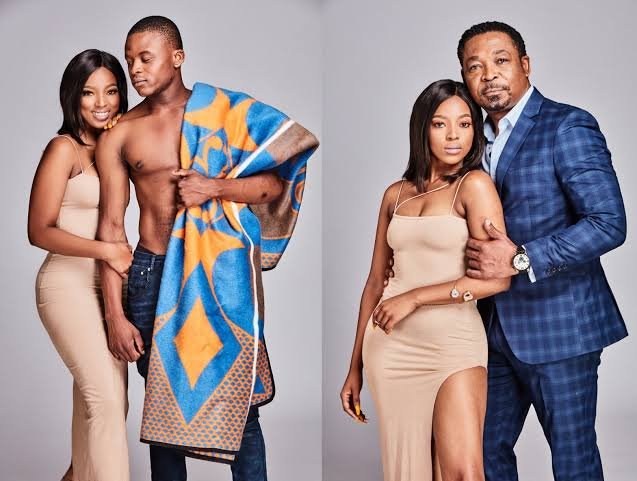 Monday 5 October 2020
Episode 115
Maki is stressing about kissing Zano and Nkosana knows where to find Nolo, so plants the gun that killed Kabe in the backgroom.
Senzo is in danger of coming undone, and Thandeka tries to pull him together, but he goes looking for Nolo and allows himself to get beaten up by his son, to try and absolve himself of the guilt that still haunts him.
Advertisements
Tuesday 6 October 2020
Episode 116
Thandeka is glad that all their plans with Kitty and the media briefing is back on, now that Senzo is a new man, black and blue from Nolo's beating.
Nkosana falls for Laiken, just as Zano denies feeling anything from her kiss with Maki, but it's clear that Maki has feelings for her, even though she still has unfinished business with Nolo.
Wednesday 7 October 2020
Episode 117
It's Pabi's first day of work as an independent woman, and as fate will have it, she bumps into Senzo on her lunch break and he works his charm on her with a thoughtful gift.
Thandeka is thrown off during the TV interview when Senzo flips the script on her plans. He declares Nolo innocent, and goes out of his way to find the hidden gun, planted in his backroom by his vindictive son, leaving Mfazwe worried and confused.
---
Monday 12 October 2020
Episode 118
Pabi takes up Senzo's offer and moves into the Sandton house, with no strings attached, but Senzo isn't ready to tell Thandeka just yet. With Zano now fussing over Tselane, Maki takes out her frustrations on Nolo, by demanding sex for closure.
Nkosana finally breaks down to Laiken about how cut up he feels about Kabe's death.
Tuesday 13 October 2020
Episode 119
Nkosana and Laiken share a kiss, as Zano tries to find out if Tselane will be coming, now that she's all consumed with planning Kabe's funeral. Thandeka is not impressed with Pabi's presence in her house. Nolo learns that her and Senzo are back in each other's good books and it tears him apart.
Wednesday 14 October 2020
Episode 120
Nkosana tries to make sense of his feelings after kissing Laiken and Mfazwe spots a gun hidden under Nolo's bed, as he tries to comfort him from a fit of rage over his heartbreak.
Advertisements
Thandeka takes matters into her own hands and lines up the evidence to have Nolo suspected for Kabe's murder. Senzo is no longer convinced that this is the way forward now that Pabi is back in his life, softnening him up.
---
Monday 19 October 2020
Episode 121
Senzo has promised to stay out of Nolo's way after publicly professing his onnocence. Nolo is still bitter and is now more determined to reveal Kabe's true idententity at the funeral, in an honourable effort bury him with dignity.
With Nkosana on cloud nine after professing his love to Laiken, she ices him to teach him a lesson.
Tuesday 20 October 2020
Episode 122
Tselane returns to Alex, on the day of Kabe's funeral, and Zano is relieved. We follow Senzo and Nolo, as he decides if it is indeed worth it to expose his father's identy swap. Pabi appeals to Nolo's good nature after Senzo realises that he can't rely on Nolo being a good guy anymore.
Laiken and Nkosana decide to go monogamous.
Wednesday 21 October 2020
Episode 123
Thandeka can sense the demise of her marriage. She swears to get rid of Pabi as she and Senzo agree to give their relationship another try.
Kitty and Mfazwe are at loggerheads regarding the running of the tavern. Nolo helps them find common ground, as he decides not to return to Qwaqwa after the funeral to help with the tavern.
---
Monday 26 October 2020
Episode 124
Pabi wants to play against stereotype by not being the evil side chick, but Zano's sudden interest in her and Senzo's affair has Pabi wondering if she is being played by the two Hlongwane women.
Nolo struggles to establish his role at the tavern with Kitty, but difines the blured lines with Zana and renounces being a proper Hlongwane.
Tuesday 27 October 2020
Episode 125
The penthouse mysteriously goes up in flames and Thandeka is blindsided when Senzo invites Pabi to officially move into the Sandton house, traumatised by the fire she supposedly caused. Zano and Tselane's sexual tension is pulpable.
Mfazwe feels the pressure to pay the bills at home, while helping Kitty and Nolo with the tavern.
Wednesday 28 October 2020
Episode 126
Thandeka is forced to accept Pabi into their home, as Senzo threatens to expose her attempted murder and arson tendancies. This sudden change of heart worries Pabi, so to help her ease into the main house, Moipone offers to come along and move in with her.
Mfazwe finally apologises to Prof, for how he has disrespected him at home.
https://youtu.be/w8qymIPt4KM
Advertisements