Maria Ramos (born 22 February 1959) is a South African businesswoman, banker and corporate executive who has been serving the chairperson of AngloGold Ashanti since 2020.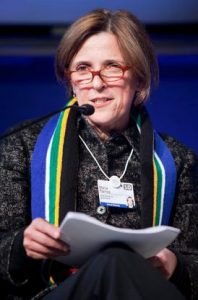 Maria Ramos Age
She was born on the 22nd of February 1959 in Lisbon, Portugal. As of 2022, she is 63 years old and celebrates her birthday on February 22nd every year.
Education
In 1983, Ramos earned the Institute of Bankers' Diploma (CAIB). She earned a Bachelor of Commerce from Witwatersrand University (Wits) in 1986, a Bachelor of Commerce Honours in Economics from Wits in 1987, and a Master of Science (Economics) from the University of London in 1992.
Maria Ramos Husband
In 2008, Ramos got married to South African politician Trevor Manuel.
Career
From 1996 to 2003, Ramos was the Director-General of the National Treasury. Until February 2019, she served as the Chief Executive Officer of Absa Group Limited for ten years. She was in charge of implementing the Group's strategy across ten African operations, which served 15 million clients through over 11,000 locations.
She was the Group Chief Executive of Transnet Limited, the state-owned freight transport and logistics service company, for five years before joining Absa as Group Chief Executive in March 2009.
She has formerly served on the boards of Sanlam Limited, Remgro Limited, and SABMiller Plc as a non-executive and independent director, and she presently serves on the board of Richemont SA.
Net Worth
She has an estimated net worth of $2 million which she has earned as a businesswoman.