Mmatema Moremi was born on February 26, 1992, in Zebeidelia, Limpopo by Disego Moremi & Lucky Moraila. She is a South African singer and songwriter that rose to fame in 2015 as the runner up on the eleventh season of South African Idols.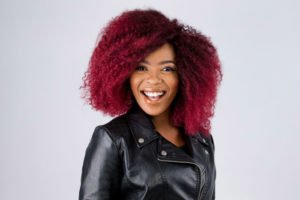 Mmatema Moremi Age
She was born on the 26th of February 1992 in Zebeidelia, Limpopo. As of 2019, she is 27 years old.
Mmatema Moremi Husband
Mmatema tied the knot with the love of her life in a beautiful traditional ceremony in February 2019.
Mmatema Moremi Songs
Difela Medley
Ga Le Mpona
Ke Lerato
Malibongwe
A Ko Bine
Thank You
Lift Him up Praise
I Love You
Ke Modimo Wa Halalela
Re Tshepile Wena
Never Stop Running
It's Gonna Be Alright Medley
Diphiri
Make a Way
Because Of You
I Will Run to You
Mphagamise Medley
I'm Sorry
Mmatema Moremi Albums
Mmatema Moremi Twitter
Mmatema Moremi Instagram
Mmatema Moremi Twitter
Make a Way by Mmatema Moremi
Mmatema Moremi Wedding
The bride wore red and we are not talking about the 1937 romantic American film with Joan Crawford in the lead.
Idols SA alumnus Mmatema Moremi had her fairy tale wedding on Saturday.
The Rhythm City actress walked down the aisle in a red wedding gown, with a magical long veil to complete her bold statement.
Moremi married her music producer beau Tshepo Gavu in her home village of Moletlane near Zebediela.
The groom looked just as fashion-forward in tailored mustard layers.
The star-studded guest-list included EFF leader Julius Malema and spokesperson Mbuyiseni Ndlozi.
"I've always thought I knew what being loved was until I met Mr G," Moremi wrote on Instagram.
"I always thought I knew what being absolutely happy and complete was until I said 'I Do'."
"I am looking forward to loving you forever and exploring the most beautiful moments with you my husband. I love you and forever I will always
"I'm married to my best friend. I'm married to the man of my dreams. I married my hope that unleashes my progress."
The couple had a colourful Sepedi traditional wedding ceremony two weeks ago.
"I finally married the love of my life. I love you so much my beautiful queen," Gavu captioned on Instagram.