Ntsiki Mazwai whose birth name is Nontsikelelo Mazwai is a very popular South African Beadwork Artist, Musician, Author, Poet, Producer, Blogger and Social Activist.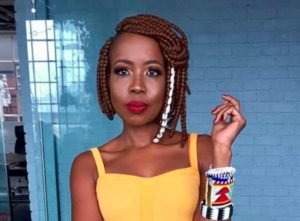 Ntsiki Mazwai Age
She was born the 3rd of September 1980 in Pimville Soweto, South Africa. As of 2019, she is 39 years old.
Ntsiki Mazwai Boyfriend
Ntsiki prefers keeping her private life away from the public and therefore details about her boyfriend or fiance are not known.
Ntsiki Mazwai Education
Diploma in Marketing Management (IMM, 2008)
Entrepreneurship and New Venture Creation (Wits Business School, 2014)
MA, cum laude creative writing (Rhodes University, 2016)
Ntsiki Mazwai Career
Her artistic trajectory has been very inspiring to watch. Originally channelling herself into her beadwork range, The House of Mobu; to mutating into being part of an all-woman spoken word collective, Feel A Sistah; and then later releasing smash hit 'uRongo,' as a solo musical performer.
She then wrote a book, produced the popular MaMa Said Sessions at Roodepoort Theatre and released her sophomore album. Centred around black consciousness and women's issues Ntsiki performs locally and abroad. Being the pioneer of mixing poetry with house music, in an effort to 'take literature to the dance floor,' Ntsiki continues to push artistic boundaries.
Ntsiki Mazwai Songs
Angisakufuni
Sneaking and Creeping
Qhawekazi
Urongo
Believe
African Skies
Wena
Sweet Poison
Ndingubani
Siyabangena
Mr No Good
Ndinje
Some Fathers of These Days
Ngilosi Yam'
Ode to an Emcee
Nina
Nguwe
Uzobuya
Mama
Is It Ok?
Hurting Me
Marika
I Choose Life
Risen
Lixesha
Xesha Lam
Love in Soweto
Ka Nci Nci Mos
You
Ntsiki Mazwai Poems
Her poetry is performed with a Dj and also with a full band. This her unique style of performing her inspirational poems with beats has really proved immensely popular.
To get Ntsiki Mazwai Poems to click the following link.
Ntsiki Mazwai Blog
If you want to read her blog, click the following link.
Ntsiki Mazwai Awards
Golden Circle youth award for community service.
LGBTI award for using Art for Social Issues.
Most innovative Student (Wits Business School, 2014).
Catalogue
The House of Mobu (Beadwork Range. 2002)
MaMiya (Spoken Word SAMA nominated album 2008)
Ntsiki Speaks (1 woman play, 2009, 2016)
Wena (Poetry anthology, 2010)
Mama Said Session (Talkshow/Music series, 2012-2013)
NDINGUBANI (Spoken Word and Music album, 2013)
Ntsiki Mazwai Twitter
Ntsiki Mazwai Instagram
Ntsiki Mazwai Profile
Name:  Nontsikelelo Mazwai
Stage names: Ntsiki Mazwai; MaMiya; StreetQueen; The Ntsikinator
Craft Beadwork Artist; Poet; Musician; Producer; Author; Blogger; Social Activist
Date Of Birth: 3 September 1980. Pimville Soweto
Education:  Diploma in Marketing Management (IMM, 2008)
Entrepreneurship and New Venture Creation (Wits Business School, 2014)
MA, cum laude creative writing (Rhodes University, 2016)
Awards:  Golden Circle youth award for community service
LGBTI award for using Art for Social Issues
Most innovative Student (Wits Business School, 2014)
Catalogue:  The House of Mobu (Beadwork Range. 2002)
MaMiya (Spoken Word SAMA nominated album 2008)
Ntsiki Speaks (1 woman play, 2009, 2016)
Wena (Poetry anthology, 2010)
Mama Said Session (Talkshow/Music series, 2012-2013)
NDINGUBANI (Spoken Word and Music album, 2013)