Rugby a sports game that is played with an oval ball by two teams of 15 players (in rugby union play) or 13 players (in rugby league play).
According to the sport's lore, in 1823 William Webb Ellis, a pupil at Rugby School, disobeyed the traditions of the day (that the ball may only be kicked forward) to pick up the ball and run with it in a game, thereby developing the distinct handling game of rugby football.
This list is based on each school's rugby ranking and determined by their statistics in the games played so far in 2021. Unfortunately, 2022 has not seen a full rugby season.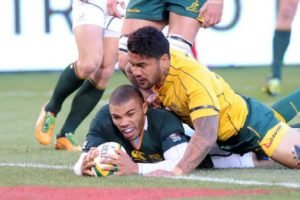 1. Paarl Gimnasium
Currently undefeated, this Afrikaans public school is situated in the Western Cape. Several Springboks emerged from these halls, as Paarl Gimnasium have a dedicated programme for their sports heroes, making it the most popular and top-achieving in the high school rugby rankings.
2. Grey College
Grey College is a bilingual English/Afrikaans all-boys high school located in Bloemfontein, in the Free State. An education research institute nominated this school as the best in the country in all-round education not too long ago. Ireland's Richardt Strauss graduated from Grey before his international success. The Oakdale rugby boys training in May 2021.
3. Oakdale
 This boarding school is situated in the Western Cape along the Garden Route and was founded in 1928. Oakdale boasts that 70 percent of their learners are involved in 16 rugby teams run by the school. Johan Muller, Pedrie Wannenburg and Meyer Bosman went on from here to become Springboks.
4. Glenwood
Formally  Durban Technical High School: Grey College: 9.050 school was previously known as Durban Technical High School (1916). More than 500 kids have been trained in rugby at Glenwood High School, which regularly works with thirty rugby teams.
They were part of South Africa's team at the Sanix Youth Tournament in Japan in 2008. It's a great honor for Glenwood to announce that 12 boys from the Under-16 and Under-18 teams have been selected to attend Provincial Training Camps (3) The Western Cape town of George is home to this co-ed boarding school.
The largest Afrikaans school between Cape Town and Gqeberha is located here. Faan Conradie, Warrick Gelant, Johan Heunis, and Marco Wentzel were all former Springboks who were well-known for their athletic abilities.
5. Durbanville
South Africa's second-oldest school, Durbanville High School, was established in 1827. There are currently 940 students enrolled in this Afrikaans public school in the Western Cape who benefit from the school's academic, athletic, and cultural programs. Horskool Outeniqua defeated Hugenote 70-7 in May of this year.
6. Bishops
Grades R through College are taught at this all-boys school in Rondebosch, Cape Town; it is an independent institution. Boys of a Certain Age WP Rugby has signed Connor Evans, Sacha Mngomezulu, and Keagan Blankenberg, who will begin playing in 2021.
7. Paarl Boys High
Another of the country's oldest schools, Hoer Jogenskool Paarl was established in 1868. Over 2000 people attended their recent U19 match against their rivals from the Paarl Gimnasium. It's clear that Western Cape high school rugby is taken very seriously.
8. Hilton College
There are 7.200 boys enrolled at the exclusive Hilton College in KwaZulu-Natal, South Africa. Hilton intends to concentrate on the following aspects of rugby: "First and foremost, the sheer joy of playing. Afterwards, he can bask in the glow of having done his personal best. In the process of learning to apply discipline, deal with disappointment, and cultivate a development mindset, he discovers his inner grit."
9. St Andrews College
 Founded in 1855 by the Reverend John Armstrong, an Anglican all-boys school. A boarding facility is available on site in Makhanda, Eastern Cape, for those who choose to stay overnight.
Rugby is the most popular sport among St Andrews students, and former students Ryan Kankowski and Nick Mallett, both members of the Springbok rugby team, attended this institution.
10. Outeniqua
George, in the Western Cape, is the location of this coed boarding school. One of Cape Town and Gqeberha's largest Afrikaans schools, it is known as Kwaggas. Faan Conradie, Warrick Gelant, Johan Heunis, and Marco Wentzel were some of the best Springbok athletes of all time.