We eat a lot more baked items now than we used to. As a result, if you want to start a bakery business in South Africa, this article will serve as a guide for you on how to do so. 
To help you get started, we've included all the information you need to know about starting a bakery business in this post.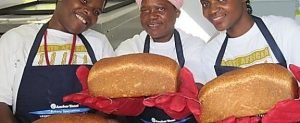 The bakery is in charge of making items like: 
Biscuit. 

Biscuits 

Bread 

Brownie 

Cake 

cookie 

Pastries 

Pie etc
In South Africa, the bakery business is a profitable one because of the high demand for goods and the wide variety of food products available in the market. 
How to start a bakery in South Africa is covered in detail in the following sections of this article.
In South Africa, what you need to start a bakery business
In order to start a bakery in South Africa, you'll need the following things: 
Baking courses and certifications prove to your customers that you are knowledgeable about the products and services you offer, which can be helpful when setting up a bakery that will serve large crowds of people. 

Marketing and Sales Experience

: Secondly, market research should be conducted on the baking bakery industry. In order to find the most sought-after baked items on the market, your research data must be accurate enough. 

Identify Your Target MarketMarket

: Identifying your target market allows you to better understand the needs of your intended audience, as well as the reasons behind and methods by which they prefer to get the services you offer. 

The location of your bakery business will be determined by your target market, which will help you choose a location that is convenient for clients. 

After finding a location, make a deposit and compile all the necessary paperwork to prove that you've purchased the property. 

Inquire with the municipality where your business will be located about zoning your land in order to assess whether or not your venture will be successful there. 

After the zoning process has been completed and your site has been approved, begin building your business structure to reach the standard that will welcome clients, sustain your business, and fall within your financial capabilities. 

Consider the type of bakery tools and equipment you'll need to run your business, such as the following: a flour sifter, mixer, a tool for dividing dough, moulder, oven etc

Your business name should be memorable and accurately describe the type of service you provide. 

To be able to legally operate a bakery in South Africa, you must register your business with the CIPC and SARS. 

Consider purchasing coverage from an insurance company that can protect your business in the event of a disaster. 

Determine what services you can offer to fulfill the needs of your clients after completing market research and determining your target market. 

Employees should be hardworking and knowledgeable about the bakery industry; inexperienced workers can benefit from a training program to help them become more productive. 

Plan a reasonable payment schedule for your staff. The strength of their payment plan. Because of this, it is imperative that you give your employees a fair wage that will keep them motivated to support your firm. Keep in mind that underpaying your employees may have a negative impact on your company. A payment arrangement that works for both sides is necessary. 
To ensure that your bakery material suppliers are dependable in meeting your needs, make a list of them. 
Send out an email to potential clients and retailers to inform them of the bakery business and its products. 
To compete in the bakery market, you'll need to create a company brand that stands out from the crowd. 
In order to sell your bakery to the South African people, an effective advertising approach is needed. There are a slew of advertising avenues that can assist you increase your marketing potential.
Is Opening a Bakery in South Africa Expensive?
In South Africa, starting a bakery business might cost up to R300,000, depending on its size. 
Does the bakery business make sense in South Africa?
A bakery service that has a demonstrated track record of success in the food service industry will boost your chances of profiting from your bakery business. 
How to start a profitable baking business in South Africa? In South Africa, the following factors must be taken into consideration: 
High quality and value for money baked goods and services. 

Customer service that is courteous and helpful. 

Maintaining customer satisfaction is a matter of being reliable. 

One must put in the time and effort to succeed.