Advertisements
Unregulated brokers operating in South Africa don't have an OTC licence. This means they are not allowed to offer Over-the-Counter (OTC) derivative products to South African traders. These unregulated brokers pay large amounts of money to affiliate websites to promote them. 
The affiliate website will have a list of the top 10 brokers, and unregulated brokers will often be found at the top of this list. They pay the affiliate websites large amounts of money to be promoted on their site. These websites are often misleading new and experienced traders looking for a regulated ODP broker.
FSCA-approved OTC Derivative Providers like Khwezi Trade are also eager to sign up customers who want to trade in forex, commodities, and indices. 
If you're thinking about investing with an online broker, do your research first. Make sure the broker is regulated by the FSCA. You can find a list of licensed brokers on the FSCA website.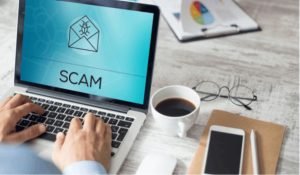 Advertisements
Affiliate Brokers
As a broker affiliate, you have the chance to make a sizable amount of money. The first step towards this end is to select a regulated ODP broker. As an affiliate, the most important decision you'll have to make is which broker to use. 
Long-term passive income can be generated by promoting a licensed ODP broker. On the other hand, you'll make less money and run the risk of getting ripped off if you promote an unregulated broker.
The importance of researching broker regulation
To offer their services, all brokers must be regulated with an OTC licence from the FSCA. Everything will depend on where the broker's headquarters are located and in which countries it may operate offering the contracts for difference (CFDs) on forex, commodities and indices.
Advertisements
Investor protection and compliance are the primary functions of regulatory bodies. The strictest regulations require any broker to keep their clients' deposits in segregated accounts, completely separate from the company's funds. 
Client capital is therefore protected from the financial difficulties of the broker or its creditors in the event of bankruptcy. Because of this, they demand a certain level of financial stability from their brokers.
For example, Khwezi Trade is one such regulated ODP South African broker which provides extensive client protection measures. Regulated and licensed by the FSCA, Khwezi Trade stores all client funds in segregated accounts, and undergoes regular financial audits by the FSCA to ensure its financial standing. 
What broker regulation provides
An unregulated broker is not necessarily a scam, but traders and affiliates need to be extra careful because their money and trust are at stake. At any point in time, a directive from the FSCA can be issued to put a lock on the unregulated broker's operations.
Unless affiliates have a mechanism for settling disputes, their work is likely to be affected. Even the broker's work policies can become opaquer without the guidance of proper regulation. 
Sound regulation does mean that the broker has gone to the trouble of complying with certain regulations and that in the event of any incident, affiliates or referrals and clients they have referred can go to the arbitration channel of the regulatory body.
The broker's level of trustworthiness should be evaluated regardless of the regulatory body with which it complies, or is licensed. Make sure its policies are clear, see if it has good customer service, and hear what other people are saying about it by using the information provided by the site.
Final Thoughts
Affiliates have a responsibility to promote ODP brokers who are trustworthy and well-regulated. Just because a broker appears on an affiliate website, does not mean their recommendation is entirely solid. 
Do your due diligence and ensure that your prospective broker is regulated and licensed to trade before investing all your hard-earned money.
Beware of unregulated brokers advertising on affiliate websites! – Don't get scammed – do your research before investing!
Also Read: Why Forex Affiliate Marketing is Exploding in Africa
Advertisements