Advertisements
Berita (born 27 June 1991) whose real name is Gugulethu Khumalo Baloyi is a popular Zimbabwean-born singer, songwriter, guitarist, and music producer.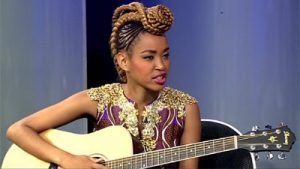 Berita Age
She was born on the 27th of June 1991 in Bulawayo, Zimbabwe. As of 2023, she is 32 years old and celebrates her birthday on June 27th every year.
Education
In Zhombe, she went to Nketa Primary School and Greenfield Primary School.
Her family moved to New Zealand in early 2012, and she later moved to South Africa to pursue her tertiary education at Walter Sisulu University in the Eastern Cape.
After returning to South Africa to pursue a Bachelor of Commerce degree at Nelson Mandela Metropolitan University|NMU, she graduated. On the other hand, she began her musical career while still in school.
Berita Husband
She is married to controversial and outspoken artist manager Ntlamulo 'Nota' Baloyi also known as The Authority.
The couple got married last year during the hard lockdown and during one of Berita's interviews, she mentioned that they would have a big wedding once things get back to normal.
Career
She sang in the choir at their local church in Zhombe when she was younger, and her passion for music blossomed after she learned to play the piano.
Advertisements
At the age of 18, she wrote a few songs and purchased a guitar for herself. Her parents were opposed to her immediate commitment to music and wanted to send her back to Zimbabwe to study.
She released her first album, Conquering Spirit, in 2013, and it went gold after selling 15,000 copies and peaking at No. 1 on iTunes a few weeks later.
Albums
She has other albums, including one with her most recent hit, listed below, in addition to her debut album, Conquering Spirit, which catapulted her to fame.
Songs in The Key of Love (2020)
Songs of Employment (2014)
Uthuthand'Umuntu (2011)
Eyodidi (2015)
Berita (2017)
Awards and Nominations
Music artist of the year – Zimbabwe Achievers Awards: 2019
Best Female – Eastern Cape Music Awards: 2017
Music artist of the year – Zimbabwe Achievers Awards: 2016
Songwriter of the year – Wawela Music Awards: 2015
Rising Star of the year – South African Afro Music Awards: 2015
Best African pop album – Metro Fm Music Awards: 2013
Net Worth
She has an estimated net worth of $100,000 which she has earned as a musician.
Advertisements