Advertisements
Binnelanders is a South African Afrikaans soap opera that centers around the lives of patients and doctors in and surrounding Binneland Kliniek, an up-market private hospital in Pretoria. It features the trials, trauma and tribulations of the staff and patients of the hospital. The series is produced by Friedrich and Elsje Stark of Stark Productions.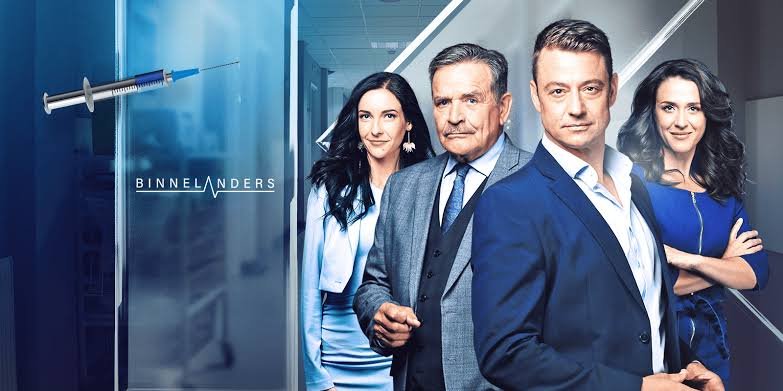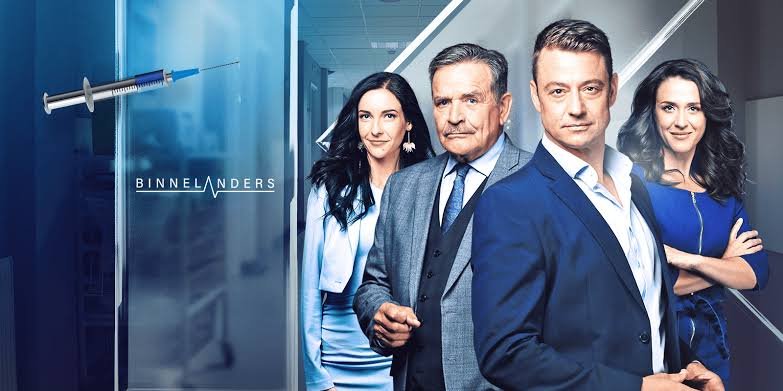 Tuesday 1 June 2021
Episode 257/3800
Maya's concerns know no end, while Hugo and Steve are invited to Vicky's repetition for her speech. Conrad confronts Tracy, while Annelize and Louis word their opinions on the Koster men. Naomi feels Louis is reckless with Elvis, while Elvis follows his own head.
Wednesday 2 June 2021
Episode 258/3801
Advertisements
A discussion with Ruan gives Steve an idea, and Louis needs to make a plan when he needs help at DOEPA. Tracy's progress is hindered, while Maya is upset by finding two men in the same room. A word that slips out of Elana's mouth causes problems, and Conrad and Tertius have an uncomfortable meeting.
Thursday 3 June 2021
Episode 259/3802
Steve tries to put Vicky's mind at ease after Elana's faux pas, while 'the last resort' rules a conversation between two friends. Elvis words his dilemma after Louis' suggestion, and once again Conrad doesn't handle a conversation well. Elana gives Steve feedback on her discussion with Helena.
Friday 4 June 2021
Episode 260/3803
Season 16 finale!
News from Ma Hester makes Elvis panic, and it becomes very clear that Faf is not going to be derailed. Steve and Elana want to get the process going, although Ruan hides his true feelings about the matter.
Louis broaches a sensitive subject with Elvis, and Conrad unknowlingly stacks the cards against Tracy even more. Tracy and Maya are at loggerheads over Faf, while Maya is being roped into evil plans.
---
Monday 7 June 2021
Episode 1/3804
Season 17 premiere!
Elvis flees – and shares his decision with Ma Hester. Lexi is concerned about a piece of paper that she found, and a serious discussion is branded as silly ideas. Conrad ribs Elana, while Tertius shares his thoughts about Maya with Tracy.
Elvis loses his patience with Louis over another suggestion, and Annelize reprimands Maya on her tardiness. Faf has come up with a very meticulous plan, while Elana has a surprise for her family.
Tuesday 8 June 2021
Episode 2/3805
Danny begins to wonder about Ruan's mental state, while Okkie is extremely confused after a visit to DOEPA. Tracy is concerned about what Maya's future holds – especially after she hears new information. At surprises everyone when he wants to solve a case of neglegence himself. A handbag holds a shocking secret.
Wednesday 9 June 2021
Episode 3/3806
Danny talks to Steve about Ruan, while Conrad's wise words are unknowingly an answer. Okkie is searching for peace of mind, and a confrontation doesn't come without a challenge. Steve and Elana are irritable because of the process, and a phone call catches At off guard.
Thursday 10 June 2021
Episode 4/3807
Vicky shares her fears with her grandmother, while elsewhere reciprocated distrust struggles to make place for shared concern. Naomi's conversation upsets Elana, and Faf says his farewells to Maya. Conrad wonders about what he has seen, and Elvis gets the shock of his life.
Friday 11 June 2021
Episode 5/3808
Steve and Ruan have a deep discussion about family dynamics, and Elvis doesn't want to talk about his past. News about the engineer shocks Maya and fills her with dread. Chanel's question isn't the only big question to be answered.
---
Monday 14 June 2021
Episode 6/3809
The new locum makes an impression on everyone, except Annelize. Elvis' biggest nightmare uses the backdoor, and Helena is a fighter – especially when it comes to her handbag. Tracy lets rip when she and Annelize meet by chance, and George gives Lexi a big fright.
Tuesday 15 June 2021
Episode 7/3810
Advertisements
George's timing is off when it comes to Elana, but he does let the cat out of the bag. Annelize and Tertius do not agree on Uys's appointment, while tongues are already wagging about what is going on between Annelize and thís doctor. Okkie summons Tertius for a house visit.
A burning desire to visit rules a nurse's day, and Uys doesn't waste any time: he invites someone for a drink shortly after their first introduction.
Wednesday 16 June 2021
Episode 8/3811
Tracy is not so sure about her decision regarding Kyla. Uys had an agenda with his late night shenanigans, and Elana takes her stress out on Helena. Naomi's thousand questions leads to a silent meeting, while Helena approaches a mediator.
Uys doesn't make an impression on Karen – and Annelize has definitely had enough of him. Elana puts her foot down when manipulaton is addressed.
Thursday 17 June 2021
Episode 9/3812
When it comes to her children, Helena wasn't born yesterday. Elvis's story shocks Naomi, while Tertius begins to wonder about Uys when he hears the gossip on his love life. Steve and Conrad can't understand George's decision, and Okkie puts his foot down with Elvis. A family fight errupts in the Koster Mansion.
Friday 18 June 2021
Episode 10/3813
Helena realises there is more to George's fight. Okkie is concerned that some problems are bigger than anyone realises, and Uys meets Binneland Stereo. Annelize reprimands Elana, and news from the social worker shocks Steve. Tertius hears exactly what happened between Annelize and Uys.
---
Monday 21 June 2021
Episode 11/3814
Obsession has a way of building up. Uys gives Tertius peace of mind, while Nellie sets Conrad in her cross hairs. Elvis is full of excuses when work opportunities are presented to him, and Annelize makes a point of focusing Conrad's attention on a budding new friendship.
Tuesday 22 June 2021
Episode 12/3815
Louis has to bite his tongue when Okkie asks Naomi for a favor, and it becomes very clear that Nellie is up to something. Uys is impressed with his work, while George makes a confession to Conrad. A photo places Elvis in an uncomfortable situation – while Louis and Naomi are starting to get a bit scrappy with each other.
Wednesday 23 June 2021
Episode 13/3816
Helena asks about Conrad and Tracy, while Uys explains his behaviour. Steve is stunned when Nellie's claws come out, and Okkie gives Elvis a new opportunity. Louis asks his burning question, while Piet is roped into helping. Conrad bends Tracy's ear, and Ruan confronts Steve and Elana.
Thursday 24 June 2021
Episode 14/3817
Frustration is at an all-time high, and it is very clear that both Naomi and Louis are on the war path. Tracy is upset that she reached out to Conrad, and Ruan is upset with Elana's behaviour. Gaby's theory on Uys's love life is expanding, while Nellie isn't planning on giving up anytime soon.
Friday 25 June 2021
Episode 15/3818
Helena's words give Conrad clarity, while Elana's insecurities are strengthened. Vicky is not just handy, but she is also a fresh breaze to more than one person. While Naomi tries to wave the white flag, Louis is definitely not blind. Uys asks around about Conrad – and uses Tracy as an excuse against Gaby. S
---
Monday 28 June 2021
Episode 16/3819
Nellie and George want to see Ruan and Vicky alone. Okkie makes a breakthrough, while Louis can't keep quiet regarding his suspicions. Annelize decides not to say anything about what she sees.
Steve and Elana try to predict the future with all the information that they have. Gaby thinks she might know what is wrong with Uys.
Tuesday 29 June 2021
Episode 17/3820
Principals become a point of contention between Nellie and George. Okkie is not prepared for the consequences of his confrontation with Elvis. A freak accident in the parking will have a huge impact on everyone's lives.
Wednesday 30 June 2021
Episode 18/3821
Okkie tries to make things right with Elvis – and makes a surprising dicovery. Karen tries to find a way to make money quickly, while Naomi is caugh off guard when Peet Pretorius phones her. There is no good news coming from the ICU.
Advertisements