Every South African correctional facility is listed here under the Department of Correctional Services, which is responsible for overseeing the country's prison system.
A large part of the South African government's budget goes to the Department of Correctional Services (DCS) because of the DCS's importance in maintaining social order in the face of escalating violent crime rates.
South Africa has 240 prisons, including 9 for women solely, 13 for juveniles, 40 for male offenders, and 72 for combined male and female offenders. Some prisons are not managed by the Department of Corrections and Rehabilitation (DCS), but rather by private or non-profit organisations. The Department of Correctional Services in South Africa is also responsible for these prisons.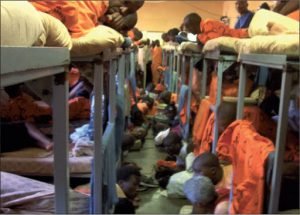 Pollsmoor Prison
This enormous South African jail is called Pollsmoor Maximum Security Prison and is located in the Tokai area of Cape Town. Nelson Mandela was imprisoned here, making this prison unique.
C Max
Prisoners in C Max are housed in solitary confinement for 23 hours a day, making it one of the most hazardous sections of Pollsmoor Prison. The prison guards employ specialised equipment, such as electric shields, to keep convicts under control in this facility.
Pretoria Central Prison
One of the largest prisons in Pretoria, the Pretoria Central Prison, or Kgosi Mampuru Il Management Area, is located in Pretoria city centre. The South African Department of Correctional Services is in charge of running it. Six correctional facilities are housed in one massive compound.
Drakenstein Correctional Centre
Between Paarl and Franschhoek sits the Drakenstein Correctional Centre, previously Victor Verster Prison. Nelson Mandela was imprisoned at this facility for the final portion of his sentence.
Female Centre Jhb Prison
The female Center Johannesburg is known as the Johannesburg Prison. It is possibly South Africa's most popular female jail.
Grootylei Juvenile Prison
The Grootvlei Juvenile Prison is part of the larger correctional complex known as the Grootvlei Prison or Grootvlei Prison Complex, which is located near Bloemfontein, South Africa. Typically, violent criminals, particularly gang-related convicts, are transported there.