Advertisements
Former president Jacob Zuma's legal team filed his medical report in the Pietermaritzburg High Court, the National Prosecuting Authority announced.
This is two weeks since the deadline given by the High Court
In a media interview on Friday, Mthunzi Mhaga, the NPA spokeswoman, stated that Zuma's lawyers had filed a medical report.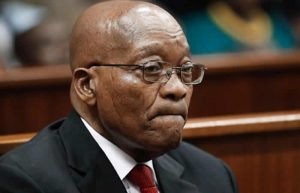 Advertisements
The evidence gathered thus far strongly indicates that Mr Zuma's legal team has prepared a medical report on his condition. While we won't be making any additional statements on the document until the court proceedings have been concluded, Mhaga stated, "This is a confidential document and we will make no further comments."
Recently, Zuma was brought to the hospital from the Estcourt Correctional Centre after he had been jailed there.
Due to his arms deal corruption trial, Zuma had been battling with the NPA. His fitness to stand trial on the arms deal charges is mentioned in the medical report.
Zuma was found guilty of contempt of the South African Constitutional Court and sentenced to 15 months in prison.
Zuma's lawyers have challenged the Supreme Court's decision to imprison him as well.
The former president was charged with corruption in connection with Thales, a French arms company.
Advertisements