Dunstan Mlambo (born 1960 in Bushbuckridge) is a South African Judge who is the Judge President of the Gauteng Division of the High Court of South Africa.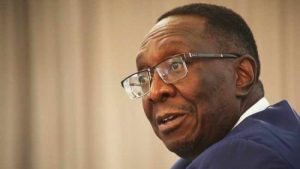 Dunstan Mlambo Age
He was born in the year 1960 in Bushbuckridge and grew up in Barberton in Mpumalanga.
Education
He matriculated from Thembeka High School in Nelspruit's Kanyamazane township in 1979 and went on to study law at the University of the North, earning his B.Proc. degree in 1983.
In 1987, he was accepted into the Legal Resources Centre in Johannesburg's fellowship program for black law graduates, and in 1990, he was admitted as an attorney.
Dunstan Mlambo Wife
He is married to Cynthia Ramashela and together they have four children.
Career
In 1997, Mlambo was appointed to the Labour Court as an acting judge and the Labour Appeal Court as a judge. He then served on the South Gauteng High Court and the Supreme Court of Appeal as a judge.
He was the President of the Labour Court and the Labour Appeal Court before being appointed to the High Court. During his time as Judge President of the Labour Court, he was a vocal opponent of the practice of labor brokering, which denies employees protection under the law.
President Jacob Zuma appointed Mlambo as Judge President of the Gauteng Division of the High Court on November 1, 2012, succeeding Bernard Ngoepe. In his CV, he wrote that he had "dedicated his practice of law as a public interest lawyer and trade union lawyer to the upliftment and protection of people on the ground." He stated immediately after taking office that he would ensure that "access to justice becomes what it should be" in a speech.
Dunstan Mlambo Net Worth
He has an estimated net worth of $1 million which he has earned as a judge.