Advertisements
Durban Gen is a South African telenovela which follows newly-qualified doctor Mbali Mthethwa who moves to the big city to serve her final year of community service at Durban General Hospital.
The story of Durban Gen is set in the heart of Newlands East, a township in Durban, where the most prominent and recognisable academic public hospital Durban General is found.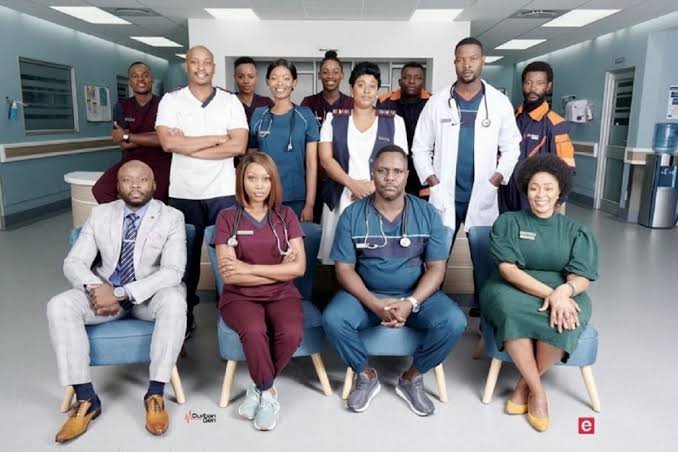 Monday 3 January 2022
Episode 326
Mbali becomes Sne's secret keeper. Calvin is desperate to keep Lindiwe alive. And Nurse Mhlongo pollutes the air for everyone.
Advertisements
Tuesday 4 January 2022
Episode 327
Gog'Radebe's weird behaviour continues to reaffirm Mrs Dlamini's belief that she is a witch. Calvin continues living in denial about Lindiwe's deteriorating condition.
Wednesday 5 January 2022
Episode 328
There's a witch and a skunk at Durban General and it all reeks of foul play. Zandile casts a spell of shame on everyone, while Nkabinde spells out what she won't tolerate.
Thursday 6 January 2022
Episode 329
Mrs. Dlamini meets up with Gog'Radebe and she apologizes. Zondo rescues Nurse Mhlongo from her problem. Calvin is there for his girlfriend Lindiwe.
Friday 7 January 2022
Episode 340
Gog'Radebe and Mrs Dlamini find themselves at the mercy of the angry community members of KwaMashu. Calvin makes a big sacrifice for Lindiwe and Sne decides to confront Nurse Mhlongo about her bad odour once and for all.
---
Monday 10 January 2022
Episode 341
A botched surgery patient attacks a senior doctor. Sne wants nothing to do with Lindelani and Calvin burns with rage.
Tuesday 11 January 2022
Episode 342
There's mixed feelings about the new Doctor in the hospital. Calvin is heartbroken by Lindiwe's last words. Bangizwe takes the trophy for being the most chaotic patient.
Wednesday 12 January 2022
Episode 343
Qwabe introduces the new head of surgery. Sne captures Dr. Dhlomo's attention. Bangizwe lashes out on Jack after hearing some bad news.
Thursday 13 January 2022
Episode 344
Advertisements
Jack struggles to convince Bangizwe to do what she thinks is the right thing to do. Dhlomo fails to win Sne's attention.
Friday 14 January 2022
Episode 345
Nkabinde is a school-girl, smitten with Dr. Dhlomo. Jack curses Bangizwe and MacGyver is captured.
---
Monday 17 January 2022
Episode 346
Zondo and Bhengu are tasked with finding the diagnosis of a 13-year-old boy with a mysterious illness that's causing him to go blind.
Tuesday 18 January 2022
Episode 347
Lindelani decides to face his fears. Dr Dhlomo gets an extension on his ten minutes. The interns struggle to take a patient's bloods.
Wednesday 19 January 2022
Episode 348
Will Lindelani convince Mbali to forgive him after telling her about him and Sne's baby, has Jack found her groove as a doctor as she helps Gloria and can Sne trust Dr Dhlomo to be the committed man of her dreams?
Thursday 20 January 2022
Episode 349
Sne and Dhlomo are almost busted with their pants down. It turns out that Themba is a junkie and Gloria's jealous neighbours want her gone.
Friday 21 January 2022
Episode 350
Mbali tells Lindelani exactly how she feels about him impregnating Sne. Jack decides to let bygones be bygones. Sara is responsible for her son's sickness.
---
Monday 24 January 2022
Episode 351
Lindelani shocks Mbali and asks her to move in with him. Bhengu's financial woes are starting to catch up with him and Dr. Dhlomo overhears the nurses discussing disturbing details about his break up with Sne.
Tuesday 25 January 2022
Episode 352
Mbali is being bullied, but she takes it without complaining. Sne fails to resist Dr Dhlomo's charm. Bhengu's family is sucking him dry financially.
Wednesday 26 January 2022
Episode 353
Mbali tries to make sure that Mrs Dlamini keeps to her diet. Bhengu gets punched for being Bab'Bhengu's son. Sne wants to confess her pregnancy to Dr Dhlomo.
Thursday 27 January 2022
Episode 354
Phumeza chastises Sne for not coming clean with Dhlomo. Lindelani is mad at Mbali for not talking to Mrs Dlamini. Bhengu turns things around for his sister.
Friday 28 January 2022
Episode 355
Mbali stops dancing to Agatha's drum and Bhengu has to face the music. Will Sne finally come clean to Dr Dhlomo about her bundle of joy?
---
Monday 31 January 2022
Episode 356
Teaser unavailable.
https://youtu.be/AVLk2fXG7_A
Advertisements