Advertisements
The River is a South African telenovela revolving around communities on two different sides of a river: society's upper crust in exquisite mansions and the exploited "common folk".
Season 4 of The River airs on Mzansi Magic from Mondays to Fridays at 19h00.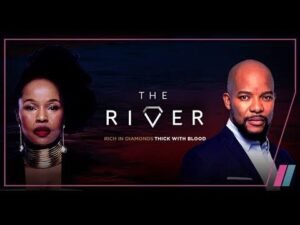 Thursday 1 June 2023
Episode 179
Suffer in silence
Advertisements
Emma continues to suffer in silence and Dimpho and Beauty find themselves at odds.
Friday 2 June 2023
Episode 180
Admit it
Zolani's suspicions drive him to do something he might regret. Beauty feels alienated as the tension between her and Dimpho grows.
Monday 5 June 2023
Episode 181
Criminal intent
Zolani learns the truth will not set him free.
Tuesday 6 June 2023
Episode 182
No lectures from me
Dimpho has a big decision to make, all while avoiding Beauty. Zolani faces uncertainty about his future.
Wednesday 7 June 2023
Episode 183
We also want
Dimpho is ready to move on up and someone has a score to settle with the Dikanas.
Thursday 8 June 2023
Episode 184
A new world order
Dimpho is still reeling from the shock of her discovery. The Dikanas are trying to keep it together, preparing themselves for the new world order.
Friday 9 June 2023
Episode 185
This is goodbye
Zolani seals his fate, and no one is able to help him. Kedibone is rocked by an unexpected event.
Monday 12 June 2023
Episode 186
Ten big ones
Zungazi's intentions are finally revealed, while the Mokoena's find themselves in another emotional turmoil.
Tuesday 13 June 2023
Episode 187
Security
The Mokoena family is left clinging on to hope while Emma starts to doubt whether her future is secure.
Wednesday 14 June 2023
Episode 188
The bigger deal
Angelina is frustrated when she doesn't get the answers she's looking for, while Lindiwe also tries to get clarity from Emma.
Advertisements
Thursday 15 June 2023
Episode 189
Much needed space
Lindiwe suffers another loss with Zungazi's help and the Mokoena family finally has a reason to party.
Friday 16 June 2023
Episode 190
Seed of division
Zungazi's divisiveness leads Emma to make an unexpected decision.
Monday 19 June 2023
Episode 191
Guy code
Angelina feels something doesn't add up with Kedibone's story. Detective Tshabalala's dirty laundry spills over into the Dikanas' lives.
Tuesday 20 June 2023
Episode 192
You were there
The Dikanas find themselves with their hands full with an uninvited guest. Cobra declares war on one of his own.
Wednesday 21 June 2023
Episode 193
Don't listen to Charlie
Cobra grows desperate in his pursuit while the Dikanas feel tested by their unwanted guest.
Thursday 22 June 2023
Episode 194
You must be joking
Detective Tshabalala's wife reaches a decision that shocks everyone. Cobra snatches the rug from under Kedibone.
Friday 23 June 2023
Episode 195
You know them better
After searching for answers, Cobra finally reaches boiling point. Detective Tshabalala is not getting any closer to solving his problems.
Monday 26 June 2023
Episode 196
The blame game
Detective Tshabalala takes his shenanigans up a notch. Kedibone proves how much she loves her family.
Tuesday 27 June 2023
Episode 197
I will mess you up
Detective Tshabalala's attempt at an apology leaves a nasty taste in the Dikana's mouths. Battle lines are drawn at the Mokoena house.
Wednesday 28 June 2023
Episode 198
Crocodile tears
Zweli plans a surprise for Detective Tshabalala. Cobra finally gets what he wished for, but it leaves a bitter taste in his mouth.
Thursday 29 June 2023
Episode 199
All alone
Detective Tshabalala is forced to confront the state of his marriage. The Mokoenas find out what life would be like if they were left to their own devices.
Friday 30 June 2023
Episode 200
Daddy daycare
Cobra's attempts to get the Mokoena house back to normal. An unexpected parcel arrives for Andile.
Advertisements