Gretchen Ramsden (born 29 March 1995) is a South African actress known for her role as Nicolene Arendse in the kykNET & kie soapie Arendsvlei.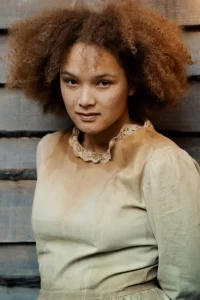 Gretchen Ramsden Age
She was born on the 29th of March 1995 in South Africa. As of 2022, she is 27 years old and celebrates her birthday on March 29th every year.
Career
In 2018, she voiced Sengül Dogan on Doodsondes, an Afrikaans dub of the Turkish telenovela Yasak Elma, a role performed by Irem Kahyaoglu in the original series.
Nicolene was her first professional part, which she played on Arendsvlei in Season 1, Episode 36, which aired on December 19, 2018.
Gretchen made her feature film debut in Toorbos, based on the novel by Dalene Matthee, which was released in 2019. The film depicts the uprooting of a young forest woman and her tribe during the 1930s, when the Knysna forest was home to the last forest residents.
When she was cast as Nadine May in the kykNET drama series Afgrond in 2021, she won her first starring role on television (Abyss).
Net Worth
She has an estimated net worth of $100,000 which she has earned as an actress.