Jackson Mthembu is a South African politician who was born in June 1958 in Witbank in South Africa. He is a former national spokesperson for the African National Congress.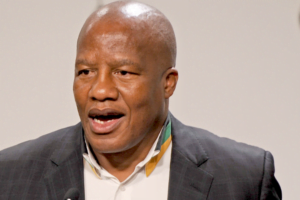 Jackson Mthembu Age
He was born in June 1958. As of the year 2018, he 60 years old.
Jackson Mthembu Mother
Comrade Mthembu's mother, Nantoni Rosie Mthembu, affectionately known as Gogo Mthembu, was born on 01 January 1939 and died on 26th February 2018.
Jackson Mthembu Wife
He is married to Thembi Mthembu, with whom he has six children.
Jackson Mthembu Children
He has two daughters; Thuli and Khabo and four sons
Jackson Mthembu Net Worth
Full details about his estimated net worth are yet to be updated.
Jackson Mthembu Career
1986 – 1988: Production Foreman, Highveld Steel, and Vanadium Corporation Limited.
1980 – 1984: Training Officer, Highveld Steel, and Vanadium Corporation Limited.
1980 – 1986: Chairman of Witbank Educa­tion Crisis Committee.
1988 – 1990: Deputy Regional Secretary, United Democratic Front from.
1990 – 1994: Spokesman of Eastern Transvaal (Mpumalanga)
1995 – 1997: National Spokesman of African National Congress in the years between
1997 – 1999: Member of the Executive Council of Public Roads and Transport, Mpumalanga Provincial Government.
Media Officer of South African Council of Churches
Jackson Mthembu Contact Details
Fax: 021 461 0462
Email: gdhlamini@parliament.gov.za
Postal Address: PO Box 15 Cape Town 8000
Street Address: Office Number V-18 Parliament of the Republic of South Africa 120 Plein Street Cape Town Western Cape