Advertisements
Jackson Mthembu (born on June 5, 1958, in Witbank) was a South African politician. He was a former national spokesperson for the African National Congress.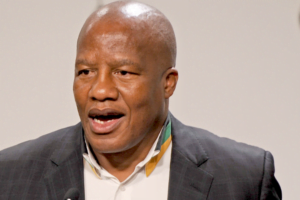 Jackson Mthembu Age
He was born on the 5th of June 1958 in Witbank in South Africa. As of the year 2020, he was 62 years old. He died on the 21st of January 2021 due to Covid-19 related complications.
Jackson Mthembu Mother
Comrade Mthembu's mother, Nantoni Rosie Mthembu, affectionately known as Gogo Mthembu, was born on 01 January 1939 and died on 26th February 2018.
Jackson Mthembu Wife
He is married to Thembi Mthembu, with whom he has six children.
Jackson Mthembu Children
He has two daughters; Thuli and Khabo and four sons. His eldest daughter, Khwezi Mthembu committed suicide at the tender age of 25 on the night of the 19th of March 2019.
Education
He attended Elukhanyisweni Secondary School in Witbank and served as a student leader during the Soweto Uprising in 1976.
Jackson attended the University of Fort Hare but later received an expulsion letter from the school.
Net Worth
He had an estimated net worth of $1 million to $5 million which he has earned from his political career.
Advertisements
Career
1986 – 1988: Production Foreman, Highveld Steel, and Vanadium Corporation Limited.
1980 – 1984: Training Officer, Highveld Steel, and Vanadium Corporation Limited.
1980 – 1986: Chairman of Witbank Educa­tion Crisis Committee.
1988 – 1990: Deputy Regional Secretary, United Democratic Front from.
1990 – 1994: Spokesman of Eastern Transvaal (Mpumalanga)
1995 – 1997: National Spokesman of African National Congress in the years between
1997 – 1999: Member of the Executive Council of Public Roads and Transport, Mpumalanga Provincial Government.
Media Officer of South African Council of Churches
Twitter
Jackson Mthembu News
Daughter of ANC leader Jackson Mthembu commits suicide
Adopted from sowetanlive.co.za
The eldest daughter of ANC chief Jackson Mthembu has committed suicide, her hurting father has disclosed.
Mthembu tweeted on Wednesday morning that his daughter, Khwezi Mthembu, took her life at their Pelican parliamentary village home in Cape Town.
"We are in deep pain," he said.
"We don't know what led her to take her own life at such a tender age of 25 years."
Mthembu has previously expressed his devastation by his firstborn son who was addicted to drugs.
In 2011, he opened up about his son's drug addiction during a radio interview and said he had sent him to several rehabilitation centres without success.
In an interview with 702 Mthembu said his son had been treated at least six times at addiction centres, and through counselling, they had learned that his son had become an addict while in Grade 7.
Advertisements