King Misuzulu  Zulu Sinqobile kaZwelithini (born 23 September 1974) is the Zulu Nation King, the oldest surviving son of King Goodwill Zwelithini kaBhekuzulu.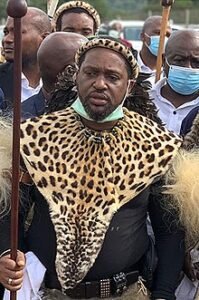 King Misuzulu Zulu Age
He was born on the 23rd of September 1974 in KwaZulu-Natal, South Africa. As of 2021, he is 47 years old.
His parents are known as King Goodwill Zwelithini and Queen Mantfombi Dlamini of Eswatini.
Education
He completed his high school education at Pietermaritzburg's St. Charles College. He is said to have a degree in International Studies, according to some allegations. Other claims, on the other hand, say that he is still studying in Jacksonville, Florida.
King Misuzulu Zulu Wife
The Zulu Nation Kings is not married but he has a son with Princess Wezizwe Sigcau of the amaMpondo royalty.
Net Worth
He has an estimated net worth of $5 million