Londiwe Siphiwokuhle Zulu (born 13 April 1992) popularly known as Londie London is a South African socialite, Instagram model, and entrepreneur.
She owns a Lingerie line that is known as 'Laced by Londie' which aims to provide ladies with a sexy look and still be able to feel confident in their bodies.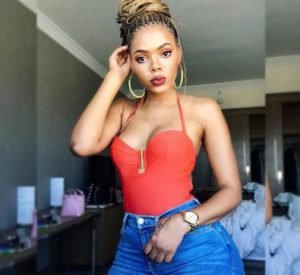 Londie London Age
She was born on the 13th of April 1992 in KwaZulu -Natal, South Africa. As of 2020, she is 28 years old.
Albums
Isaga Lam (feat. LaSauce, Gigi Lamayne, Nadia Nakai, Londie)
You Were Mine
Twinkle (feat. Londie)
Songs
Twinkle (ft. Londie.)
You Were Mine
He Goes
Miss Pru – Isaga Lam (ft. LaSauce, Gigi Lamayne, Nadia Nakai & Londie)
Ma Nonko (feat. Londie)
Facebook
Instagram