Luan Jacobs (born 28 January 1988) is a South African actor known for his roles in the television series Binnelanders, 7de Laan and Vir Beter of Baie Beter.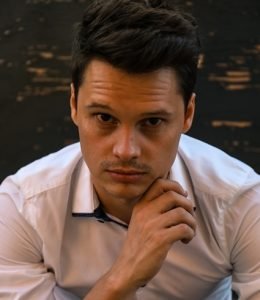 Luan Jacobs Age
He was born on the 28th of January 1988 in South Africa. As of 2022, he is 34 years old and celebrates his birthday on January 28th every year.
Education
Luan studied BA Drama and Film Studies at the University of Pretoria, graduating with a BA(Hons) Drama and Film Studies in 2010. He specialized in acting, directing, and movement, and he wrote a long article on Forum Theatre and Virtual Theatre.
Luan obtained the IOSP (International Order of the Sword and Pen) Scholarship during his studies and was able to attend this prestigious event in Banff, Canada.
Career
In 2013, he got his first lead parts in the MTN Radio Award-nominated radio dramas 40 Dae, Sibbe, Maskers, and Die Kwilter en die Kelner.
Luan Jacobs was selected to represent South Africa at the inaugural World Event Young Artists (WEYA) celebration during the 2012 Olympic Games in London. This worldwide event brought together 1000 artists from 100 countries to share their creativity on an international stage, showcasing the best international creative talent across a range of art genres in one location.
Luan's cinematic debut was in the adolescent comedy Suurlemoen!, and he played Jan-Paul Jnr. in the critically praised Ballade vir 'n Enkeling.
Luan played Piet in Deon Meyer's Jagveld, starred in the drama Nul is nie Niks nie, and appeared in the Silwerkerm festival's Vlees van mine Vlees.
He appeared as Chris du Toit in Season 3, Episode 10 of the SABC1 legal drama series Sokhulu & Partners, which aired on August 7, 2016.
Luan Jacobs Net Worth
He has an estimated net worth of $300,000 which he has earned as an actor.