Makoti is a South African comedy-drama television series inspired by the blog "Missteps of a Young Wife" by Mike Maphoto and Thozama Mqikela that explores modern-day relationships by following four couples at different stages of their relationship or marriage.
The series also explores some of the key elements that make or break relationships based on the four stages of marriage: honeymoon, conflict, bargaining and mature love.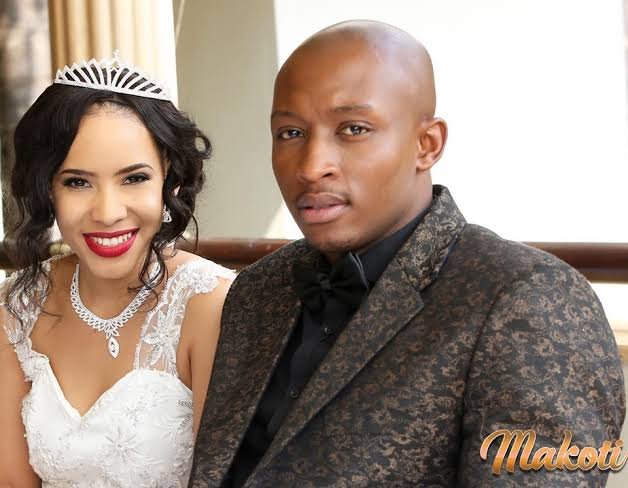 Monday 1 June 2020
Episode 16
Ku Bad
Lawrence learns that the cancer is still treatable. When told that he needs to go for counselling, he flat out refuses.
Siyabonga leaves Zandile high and dry when he goes out with Noncedo. Jessica confronts Mo about sleeping with strange women, and she tells him how she feels about him.
Lilitha shows up in KZN and tries to make amends with Mthoko.
Tuesday 2 June 2020
Episode 17
Turntables
While Lilitha and Mthoko are in KZN, Judith and Ngezeni invite a social worker and a cancer survivor to convince Lawrence to undergo prostate cancer treatment.
Zandile and Siyabonga increasingly drift apart on account of Noncedo. Jessica decides on "open" relationships with both Mo and Gareth.
Wednesday 3 June 2020
Episode 18
Switch It Off
When Mo walks into the kitchen and meets Gareth, he realizes that he'll have to do something extra special to win this round.
Lawrence goes missing; Lilitha finds an opportunity to make a huge impact in the Ntuli home. Zandile tells Siyabonga off but decides to stay.
When Lilitha sees Mthoko at the farm with Kayise, all hell breaks loose.
Thursday 4 June 2020
Episode 19
Memory Lane
Mthoko takes Lawrence to Doctor Shange. But Lawrence also goes to see Busobengwe.
Lilitha goes on a date with an old flame, Julius. Mthoko hurries home with pressure from work and on his way he sees that someone's posted his selfies publicly.
Lilitha has a surprise waiting for her at home. Jessica dumps Gareth.
Friday 5 June 2020
Episode 20
Practice What You Preach
Mthoko tries to find a way to tell Lilitha that he's resigned and plans to go back to KZN, hopefully with her.
Siyabonga wallows in self-pity and Zandile encourages him until their relationship takes a turn for the good. Mo is forced into dinner with Ezra, Jessica's father.
---
Monday 8 June 2020
Episode 21
Love Trap
Things are falling apart for the couples as Lilitha and Mthoko face a stand-off over him quitting his job and making plans for his return to KZN.
Noncedo pushes Zandile too far and Jessica and Mo deal with the fallout from their disastrous dinner with her father.
Tuesday 9 June 2020
Episode 22
Love Has Relocated
Zandile moves in with Lilitha at Noma's place. Knives fly when she sees Kayise with Mthoko at the restaurant.
Mo moves out of Jessica's apartment and she is shattered by it. When Lilitha fails to resolve hers and Mthoko's issues, she calls on Judith.
Siyabonga is out on the street. He's very disappointed when Mthoko refuses to help him.
Wednesday 10 June 2020
Episode 23
Matters of the Heart
Lilitha and Mthoko face the parents to discuss their issues. When Lilitha reveals that she has accepted the home loan – their issues escalate and they decide on how to move on.
Jessica is surprised to learn that Mo has a date. Siyabonga makes amends, Zandile is pleased.
Thursday 11 June 2020
Episode 24
Why Did I Get Married?
Siyabonga makes a very big decision. Jessica has an accident and Mo jumps to her rescue. Judith has an idea to help Mthoko and Lilitha fix their mess once and for all.
Lilitha is worried that she may lose Mthoko to his first love, uMsinga. Judith tells Mthoko to be real, Lilitha will never move to uMsinga.
Friday 12 June 2020
Episode 25
Meet Me At The River
Noma has a truthful and honest conversation with Lilitha. Lawrence also drops some pearls of wisdom for Mthoko.
Zandile and Siyabonga stand together in their big decision regarding the church. Mo doesn't deny being in a relationship with Jessica.
Mthoko and Lilitha continue with their plan to meet at their wedding venue but the unexpected happens.
Episode 26
Makoti
Mthoko arrives home to a great surprise. Zandile does a home pregnancy test when she wakes up feeling nauseous again.
Mo makes a true and genuine declaration to Jessica who stuns him with her insight. When Mthoko discovers what gift Judith left Lilitha, they panic and the results are hilariously disastrous.