Advertisements
Makoti is a South African comedy-drama television series inspired by the blog "Missteps of a Young Wife" by Mike Maphoto and Thozama Mqikela that explores modern day relationships by following four couples at different stages of their relationship or marriage.
The series also explores some of the key elements that make or break relationships based on the four stages of marriage: honeymoon, conflict, bargaining and mature love.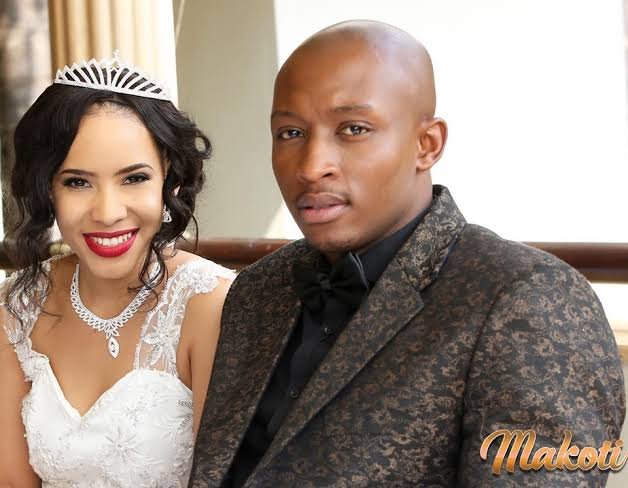 Monday 11 May 2020
Episode 1
Couple Goals
Lilitha and Mthoko prepare for their evening wedding and the only thing dampening their fiery passion and zeal is the idea of their unhinged mothers meeting for the first time.
Advertisements
The fine cracks start to show between Pastor Siyabonga and his wife Zandile as the pressure of their responsibilities and choices start to weigh on them as a couple.
An uninvited guest has the potential to ruin Lilitha and Mthoko's fairy tale ending.
Tuesday 12 May 2020
Episode 2
Ksazoba Lit
Judith makes Mthoko and Lilitha's place small during the family lunch. She's brought some critical items to do a little ceremony that cannot be skipped.
Noma and Judith have a shading match and Jessica reveals her virginity status, much to Mo's delight and interest.
Siyabonga must officiate and an uninvited guest walks in at the wrong moment.
Wednesday 13 May 2020
Episode 3
I Do
Mthoko sets the record straight and Kayise gets her closure. The wedding is back on. Lilitha receives a lot of teachings during speeches about how to be a proper Makoti.
Siyabonga gets double for his trouble and he uses the money to make his Makoti happy. Jessica and Mo get closer and comfortable around each other.
Mthoko and Lilitha have to succumb to Judith's wiles.
Thursday 14 May 2020
Episode 4
Makoti Duty
Lilitha begins her Makoti duties, or so she thinks. Judith has a surprise for her and Mthoko. Mo makes a deal with Jessica who first ridicules his suggestion.
Zandile has to work and not be with Siyabonga on his Pastor duties. Noncedo finds a gap and takes it.
Lilitha is under pressure to impress Judith's visitors and her dish takes a dive leaving her totally stranded and staffed.
Friday 15 May 2020
Episode 5
Bae Duties
Mthoko is out and about while Lesedi works hard under the watchful eye of Judith. Mo has invited Jessica to his gig and things fall apart.
Zandile has to stand by her husband and be the supportive Makoti but she is frustrated. Judith frustrates the couple and ruins every moment they get together.
When Judith becomes seriously unreasonable, Mthoko steps up and agrees with Lesedi that they need to get the hell out of here, they plan a "prison break".
---
Monday 18 May 2020
Episode 6
Commitments
Lilitha attends Khalangani's umabo and learns about the tradition, Zandile commits to helping Siyabonga with his revival but wants to know what his plans are for them as a couple, outside of church.
Jessica's work suffers and she gets a lashing from Lilitha, Mo comforts her. Mthoko faces his parents: he and his wife are leaving.
Tuesday 19 May 2020
Episode 7
Something's Gotta Give
Mthoko and Lilitha re-adjust to their lives in Joburg, but Mthoko notices with growing unease how much Lilitha wants to retain her independence.
Advertisements
Siya and Noncedo grow closer together as she helps him brainstorm on ways to raise funds for the revival, after his disastrous meeting with the church elders.
Jessica and Mo's feelings for each other continue to grow.
Wednesday 20 May 2020
Episode 8
To Have But Not To Hold
Mthoko & Lilitha have friends over for a cocktail, his traditionalism disguised as his strategist-self irks Lilitha.
Zandile and Siyabonga draw further apart as he gets emotionally closer to Noncedo.
Judith seeks comfort in her almost-makoti but subtly suggests that she should love to be with her true makoti & son right now.
Jessica and Mo plan for their big night, but fate won't have it.
Thursday 21 May 2020
Episode 9
Missteps and Slip-Ups
Judith bullies the couple into submission. Lilitha's joke turns sour and ugly. Zandile takes a leap of faith and plans a surprise for Siyabonga.
Mo finds something intriguing at Jessica's apartment. Noncedo continues to carefully mow Zandile's lawn. Lilitha finds herself alone in the house.
Friday 22 May 2020
Episode 10
Hit & Miss
Zandile feels insecure in her marriage and Siyabonga tries to comfort her. It's D-Day for Jessica and Mo. Lawrence discharges himself from hospital.
Mthoko blue-ticks Lilitha, she is annoyed. Kayise reminds Mthoko of their plans, before he chose another woman and moved on.
Jessica googles sex tips for first-timers, Mo is not as confident and he wants Jessica to think. When they finally get their moment…
---
Monday 25 May 2020
Episode 11
Catching Feelings
Now that Jessica and Mo have had sex, they try by all their means to not catch feelings. Mo fights with his Mom who wants him to come home to take his rightful place as prince, but he takes his frustrations out on Jessica and pushes her away.
Lawrence is not getting any better, but refuses to do blood tests. Zandile secures Bishop Somo Msiza and Andiswa for the revival, much to Noncedo's chagrin.
Tuesday 26 May 2020
Episode 12
Choices
Lilitha goes to KZN to be with Mthoko, Lawrence and Judith; but Judith continues to make her do all the heavy tasks.
Lawrence, worried about his test results, goes to see his healer who has bad news for him. When Zandile's plan to get Bishop Somo Msiza and Andiswa to the first night of the revival falls through, Siyabonga blames her and they get into a huge fight.
Jessica catches Mo having sex with Liz.
Wednesday 27 May 2020
Episode 13
Reshuffle
Mo has a big surprise waiting for him at his apartment. Noncedo has her claws on Siya, at Zandile's displeasure.
Mthoko and Lilitha fight about his Mom's influence over him, but she soon realizes she went too far.
Lawrence believes he has prostate cancer but doesn't tell Judith. Zandile tries her best to make things right with Siya but is rewarded with a nasty discovery.
Thursday 28 May 2020
Episode 14
Shots Fired
Mthoko secretly plans a life in KZN, and Lilitha puts in an offer for a house without Mthoko's knowledge.
Zandile is still reeling from the discovery of Siyabonga and Noncedo "emotional cheating" over text messages.
Mo moves into Jessica's place and they start to get cozy with each other.
Friday 29 May 2020
Episode 15
Love Has No Rules
Jesica starts to get frustrated with Mo's immaturity. Lilitha gets no sympathy form Zandi and Noma but she makes a decision to mend things with Mthoko.
Mo realises he has some serious competition. A fed-up Zandile confronts Noncedo. Judith confronts Lawrence on her suspicions that he's gone back to drinking.
Advertisements