Pearl Thusi Biography
Pearl Thusi who was born Sithembile Xola Pearl Thusi is a popular South African actress, model, radio and television personality.
She is well-known for her role as Patricia Kopong in The No. 1 Ladies' Detective Agency, Dayana Mampasi in the ABC thriller Quantico and Samkelo in the romantic drama film Catching Feelings.
In this post, we take a look at the personal life of Pearl Thusi, her career and the movies she has featured in.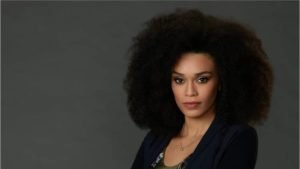 Pearl Thusi Age
She was born on the 13th of May 1988 in Kwazulu-Natal, South Africa. As of 2019, she is 31 years old.
Pearl Thusi Daughter
In her previous relationship with sports presenter Walter Mokoena, she gave birth to a daughter, Thandolwethu Mokoena.
Pearl Thusi Boyfriend
She was once in a relationship with SuperSport and SABC sports journalist Robert Marawa but their breakup was confirmed by Marawa in August 2017.
The actress set tongues wagging on social media in January 2018 after hinting that she has found love again. "Just when I said I couldn't be bothered with love, I end up falling for someone bomb…" she tweeted. She has however not revealed his identity.
Acting Career
She has made appearances in Zone 14, Soul City, Rhythm City, Family Bonds, Number 1 Ladies Detective Agency and Jacobs Cross.
She's worked on a leading role on Isidingo playing Palesa Motaung.
She had a lead role in the film Kalushi- The Story of Solomon Mahlangu.
She has also acted on two international movie roles Tremors: Bloodlines (Universal Pictures 2015) and Rosa (Germany).
She has also acted on a romantic comedy 'Feelings' with famed comedian Kagiso Lediga and Akin Omotoso.
She is also featured on the second season of 'Quantico' in New York.
Nominations and Awards
Nominated for Best Actress in the supporting role at the SAFTAs for her role as Samkelisiwe on ZONE 14.
Nominated as YOU Spectacular most stylish female celebrity.
Nominated as the best female host/ presenter.
Nominated as the Best Actress for her captivating performance in Kalushi: The story of Solomon Mahlangu by the Inaugural Rapid Lion Film Festival.
In 2015, she was voted as one of the Coolest Female Celebrities at the Sunday Times Generation Next Awards.
She was hailed as the Fag Hag of the year by the Feather Awards.
Pearl Thusi Net Worth
She is considered to be one of the richest actresses in South Africa and has an estimated net worth of $2 Million.
Pearl Thusi Twitter
Pearl Thusi Instagram
Video
Pearl Thusi News
Pearl Thusi on the pain of losing her mother: 'I still sometimes want to scream'
Source: channel24.co.za
It has been years since Pearl Thusi lost her mother, but the pain doesn't get any better.
It wasn't the first time that Mama Panther poured out her heart about how difficult it is for her to deal with losing her mother.
Her followers took the opportunity to comfort her after the emotional tweet.
In a tweet, she wrote: "It can never be stressed enough… How much losing a mother sucks… Over 15 years and I sometimes still wanna scream. Be kind to each other"
Pearl has always shared beautiful moments of her and daughter Thando. She isn't so little anymore as she turned 12 in September.
Earlier in the year, Pearl started sharing pictures of her other daughter, Okuhlekonke, putting rumours that she had adopted a girl-child to bed.
Pearl is having a great time raising her girls and she is loving being a mother to them.