Advertisements
Raymond Ackerman (born 10 March 1931) is a South African businessman, philanthropist and author. He is the past chairman and founder of Pick 'n Pay supermarket group.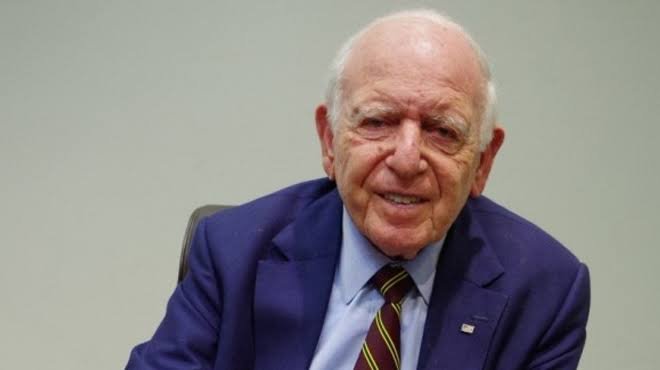 Raymond Ackerman Age
He was born on the 10th of March 1931 in South Africa. Ackerman is 92 years old as of 2023 and celebrates his birthday on March 10th every year.
Raymond Ackerman Education
Ackerman attended Diocesan College, popularly known as Bishops, located in Cape Town, South Africa. He went on to study Accounting at the University of Cape Town. Ackerman graduated with a Bachelor of Commerce from the University of Cape Town in 1951.
Raymond Ackerman Wife
Ackerman is married to Wendy Ackerman. They have four children together: Gareth Ackerman, Kathryn Robins, Suzanne Ackerman-Berman, and Jonathan Ackerman.
They all run the family business together. On 21 October 2009, Gareth took over his father's duties, and on 1 March 2010, the chairmanship as well.
Raymond Ackerman Career
Ackerman started off his career at the age of 20 as trainee manager at Greatermans group in the Ackermans division. Ackermans was business founded by his father but acquired in 1940 by Greatermans group.
He worked his way up the ladder to become the managing director of 85 Checkers stores, a food retailer started by Greatermans group. He was 35 years old at this time. His stay there as managing director was short-lived as he was fired the same year, in 1966.
Advertisements
After he lost his job, Ackerman purchased four Pick 'n Pay stores in Cape Town with the help of his severance pay and a bank loan. Pick 'n Pay gradually expanded to become one of Africa's largest supermarket chains, with a turnover of 37 billion Rand (as of 2006) and more than 124 supermarkets, 14 hypermarkets, and 179 franchised outlets under his leadership. In many African nations, the Pick 'n Pay Group employs over 30,000 employees.
Books
Raymond Ackerman has written three books. In his books, he shared his experiences and offered advice to young aspiring entrepreneurs.
Ackerman, Raymond: Hearing Grasshoppers Jump. The story of Raymond Ackerman as told to Denise Prichard. Cape Town: David Philip, 2004. ISBN 0-86486-662-3
Ackerman, Raymond: The Four Legs of the Table. Raymond Ackerman's simple, straight-forward formula for success as told to Denise Prichard. Cape Town: David Philip, 2005. ISBN 0-86486-617-8
Ackerman, Raymond: A Spat to Catch a Mackerel. Key Principles to build your business. Cape Town: Jonathan Ball, 2010. ISBN 978-1-86842-369-9
Awards
Honorary doctorate in law from Rhodes University in 1986.
Honorary doctorate in commerce from the University of Cape Town in 2001.
79th in the Top 100 Great South Africans in 2004.
Only South African among the world's 100 greatest business leaders by Financial Times in November 2004.
2010 David Rockefeller Bridging Leadership in Africa Award by The Synergos Institute Southern Africa office.
Raymond Ackerman Net Worth
Ackerman has an estimated net worth of $500 million which he has earned from his successful career as a businessman.
Advertisements