There are over 100 banks currently operating in South Africa. Some banks in South Africa are branches of popular financial institutions established while some are locally controlled by Reserve banks of South Africa. These local banks are popular and have a large percentage.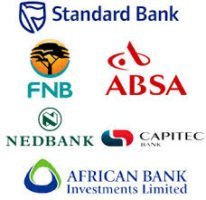 South Africa Savings and Loans Banks
1. Standard Bank
Standard Bank of South Africa Limited is a South African financial services groups and Africa's biggest lender by assets. Founded on 15th October 1862, with headquarters in Simmonds Street,  Johannesburg. In 2005, Standard Bank was rated as having the lowest bank charges in South Africa.
By 2010 that had changed, to the extent that standard Bank was rated Finweek's review of SA bank charges as having amongst the highest bank charges still it is the best bank in South Africa that provide the best banking service.
The South African customer satisfaction Index (SAcsi) of 2015 and 2016 rated standard bank as being the lowest among South African Bank in terms of customer service. Consumer satisfaction at Standard Bank rose by 4.4%, from 71.9 in 2016 to 75.2 in 2017. This is the largest for any South African bank.
Standard Bank of South Africa Limited is arguably one of the top 2 South African biggest banks to open a savings account. They also have interests in foreign banking, wealth banking, private banking, insurance etc.
2. ABSA Group
ABSA Bank Limited, a subsidiary of ABSA Group and the largest commercial bank in South Africa. Founded in 1991, known as Amalgamated Banks of South Africa, ABSA is a financial provider with an interest in commercial banking, retail banking, credit cards, private equity, investment management and banking. As of 2017, ABSA Group has about 40,000 employees.
3. Nedbank Group
Nedbank is one of the best banks in South Africa for saving and loan purpose. As a business owner or student, Nedbank is your best bet. Founded in 1888, as a credit union for South Africans, it has lived up to many expectations.
It has user-friendly banking that allows you to carry out numerous banking activities. If you need accounts for loan, credit, savings and an investment account for your business call Nedbank today.
4. Bidvest Bank
Bidvest Bank, (BVBL) is a commercial bank in the Republic of South Africa. It is a locally-controlled licensed bank founded in 1998 and regulated by South Africa's Reserve bank. It specializes in foreign exchange and provision of retail banking.
5. First Rand
FirstRand Limited also referred to as FirstRand group is the holding company of FirstRand Bank, and is a financial services provider in South Africa. It is one of the financial service providers licensed by the Reserve Bank of South Africa, the National banking regulator.
Aside from South Africa, the bank operates in Lesotho, Botswana, Swaziland, Nigeria, Zambia, Ghana, Namibia, Tanzania, Mozambique, India, Guernsey and London.
6. Investec
Investec is an international specialist banking and asset management group. Investec is a popular bank in South Africa. Founded 45 years ago, provides services ranging from investment banking, investment management, capital markets, wealth management etc.  Investec South Africa has also been ranked as one of the home loan friendly South African banks internationally known.
7. Capitec Bank
Capitec Bank founded on 1st March 2001 is the second-largest retail bank in South Africa, based on customer figure. New customers totally about 150,000 open new accounts with Capitec bank. It is a public company and when it comes to customer satisfaction as per the results by South African customer satisfaction Index (SAcsi) in 2015, Capitec bank comes first with 82.2 points.
8. African Bank Limited
South African based, African Bank Limited is a retail bank that offers financial services. The bank is also licensed as a locally-controlled bank and regulated by the Reserve bank of South Africa. Headquarter in Midrand, Johannesburg, South Africa and has a countrywide branch distribution. It is one of the best South African banks to open a savings account for money today.
9. Sasfin Bank
Sasfin is a bank-controlling company that provides a comprehensive range of specialist in financial products and services for business and wealth clients. The motto'' beyond a bank'' simply depicts their class as being one of the top customer friendly banks in South Africa that provides numerous banking activities.
10. Grindrod Bank
Grindrod Bank (GRDB) is a commercial bank in the Republic of South Africa. Grindrod has its headquarters in Johannesburg, South Africa.  It is a locally-controlled licensed financial institution by the Reserve Bank of South Africa, the mother body of banks.
The bank founded in 1994, has an interest in loans, savings, checking, investments, debit cards, credit cards, mortgages etc. The stock of Grindrod bank is 100 % owned by Grindrod Limited.