Advertisements
Stiletto Vendetta is a television series that  revolves around four stunning, accomplished women who reunite as adults after a long separation and have old scores to settle as new rivalries emerge.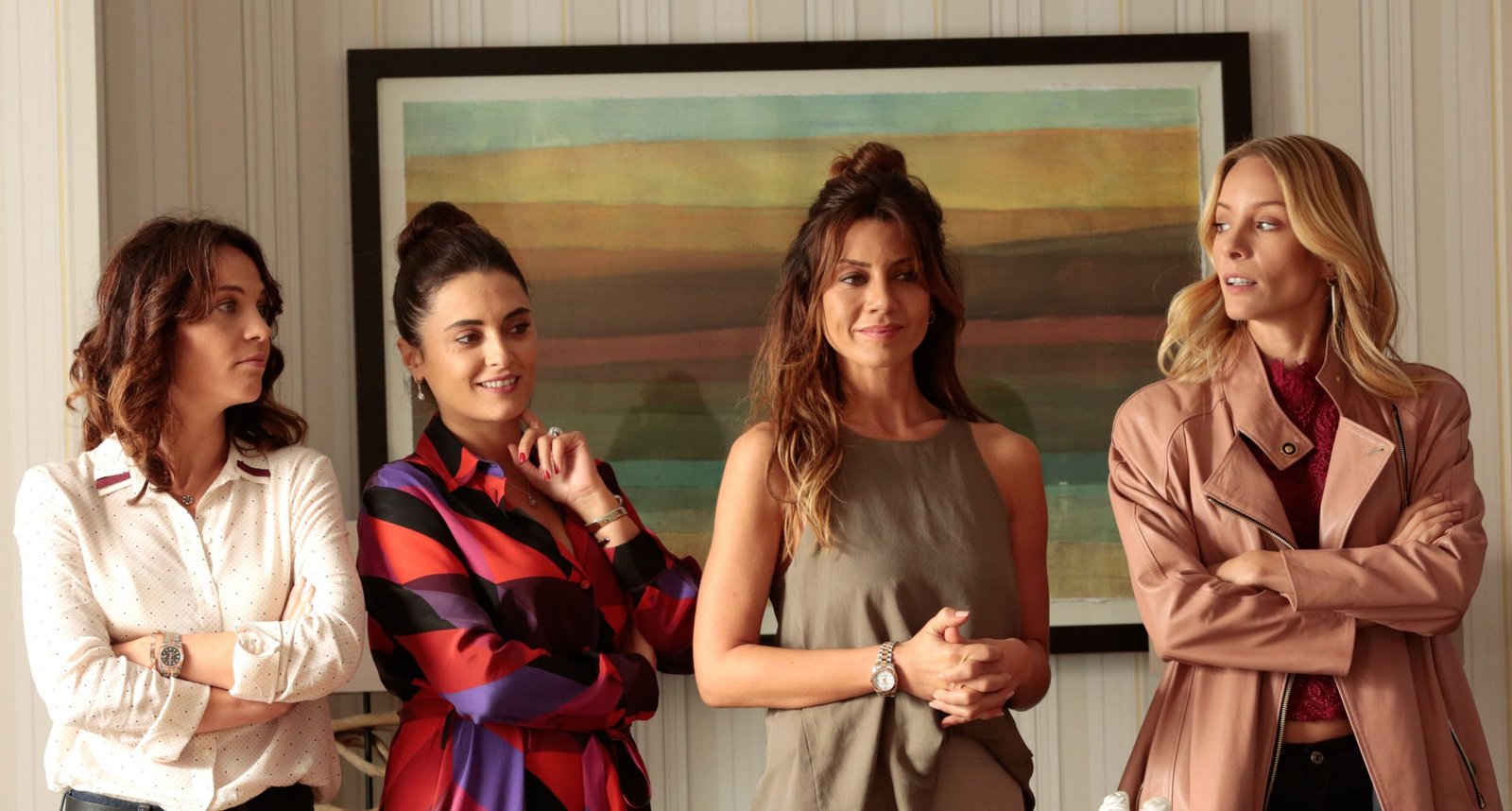 Thursday 1 July 2021
Episode 63
Merve and Arzu are suspected of locking up Oya. Burcu's lost braclet is causing a lot of anxiety.
Friday 2 July 2021
Episode 64
Advertisements
Everyone suspects Arzu of Oya's misfortune. Burcu executes a cunning plan to blame Arzu and to end the "pregnancy".
---
Monday 5 July 2021
Episode 65
Serhan digs deeper into Oya's accident, and the wheel starts to turn against Burcu. Merve and Pelin come face to face with Tunc.
Tuesday 6 July 2021
Episode 66
Burcu can't get away with her lies any longer while Merve's had enough of Tunc's threats.
Wednesday 7 July 2021
Episode 67
Tunc and Burcu has an awkward encounter. Mehmet is torn between the truth and Burcu's lie.
Thursday 8 July 2021
Episode 68
Merve pulls out all stops to disrupt the divorce. Tunch tries to take revenge but does it work out in his favour?
Friday 9 July 2021
Episode 69
Pelin and Merve are on the verge of a nervous breakdown while Oya's good hearted nature saves the life of a stranger.
---
Monday 12 July 2021
Episode 70
Merve reveals important information to Mehmet. Burcu's days may be numbered.
Tuesday 13 July 2021
Episode 71
While Merve makes sure that Tunc will never return to the estate she also plots to find out who the new woman in Serhan's life is.
Wednesday 14 July 2021
Episode 72
Merve hatches a plan to drug Serhan and find out who his lover is. Mehmet accidentally covers for Oya but spills the beans to Pelin.
Thursday 15 July 2021
Episode 73
Merve's suspicions are making her imagine wild scenarios. Oya and Pelin share secrets and seem to be teaming up. What could they be planning?
Advertisements
Friday 16 July 2021
Episode 74
Enver can't hide his feelings for Arzu any longer. How will Mehmet react when he finds out? Pelin starts doubting Merve's loyalty.
---
Monday 19 July 2021
Episode 75
Will the plan to expose Merve come to fruition? How safe is Oya being Serhan's love interest?
Tuesday 20 July 2021
Episode 76
Merve decides to go on a trip and asks Serhan to watch Mila. Mehmet tries to find out about Arzu's love life and ends up upsetting Taylan.
Wednesday 21 July 2021
Episode 77
Mehmet is frustrated with Arzu's secret love life. Pelin makes it her duty to find out who Arzu is dating.
Thursday 22 July 2021
Episode 78
Mehmet is getting closer to find out who Arzu's mystery man is. Merve comes back a changed woman or is it all an act?
Friday 23 July 2021
Episode 79
Merve finds a sly way to manipulate Serhan while Oya is distracted with a new friend who might provide her with something she's always dreamed of.
---
Monday 26 July 2021
Episode 80
Oya is hopeful that her future might include having children. Arzu invites Mehmet over to the house for the weekend.
Tuesday 27 July 2021
Episode 81
Serhan becomes more and more impatient with Oya while she seems to fall apart. Merve's plan is coming together.
Wednesday 28 July 2021
Episode 82
Serhan turns out to be a great disappointment to Oya while Arzu has a new spring in her step. Burcu comes up with an evil plan.
Thursday 29 July 2021
Episode 83
Oya has finally snapped and it leaves her career and close relationship seemingly in flames. Edip suprises Merve with an unexpected confession.
Friday 30 July 2021
Episode 84
Will Serhan and Oya make peace? Edip's confession leaves Oya speechless. Ilhan decides to go and look for clues about what's happening to Oya.
Advertisements