Uzalo tells the story of two families in the township of Kwa-Mashu: the Mdletshe family which plays a significant role in the management of the Kwamashu Kingdom Church and the Xulu family which runs a car theft syndicate.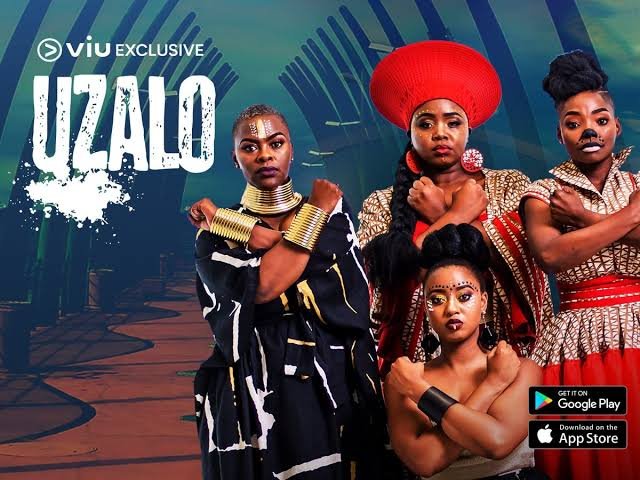 Monday 1 March 2021
Episode 256
Nkunzi's public appearance unsettles umbutho. Abazalwane are not willing to lose the church without a fight. Nonka struggles to juggle college and work.
Tuesday 2 March 2021
Episode 257
Sobhuza finds himself in hot water when he's confronted by his uncle about his secret meetings.
Babekazi assures Sibonelo that the Zikhali's are there for him, but he soon realises how alone he is when the walls start closing in on him.
As excited as Nonka is about going back to college, she soon realises she's not really part of the 'in' click.
Wednesday 3 March 2021
Episode 258
Sobhuza is caught fraternising with the enemy. Mpambani takes Sibonelo down. Phelelani and Nonka face more opposition.
Thursday 4 March 2021
Episode 259
Mageba punishes Sobhuza for lying by teaching him a lesson he will never forget. Qhabanga threatens abazalwane with the police for trespassing on 'private property'.
Mrs. Nhlapho doesn't think Nonka is good enough for her son.
Friday 5 March 2021
Episode 260
Season 6 finale!
Nkunzi wants Mpambani to arrest him. Qhabanga has sold the church. Phelelani reassures Nonka.
Monday 8 March 2021
Episode 1
Season 7 premiere!
MaMlambo needs the people's trust. Mrs. Nhlapho plays her final card in getting rid of Nonka.
Tuesday 9 March 2021
Episode 2
MaNgcobo is too slick for the police. Zekhethelo is pushed to the edge of her rage and Nonka meets Phelelani's mother for the first time.
Wednesday 10 March 2021
Episode 3
Mr Mbatha suggests they take KKC back by force. Wenzile gives Nonka a hard time.
Thursday 11 March 2021
Episode 4 
The church continues leaderless, Phelelani and Nonka's relationship hits its lowest point.
Friday 12 March 2021
Episode 5

MaMlambo puts her qualms behind her and taps into unfamiliar territories and could this really signal the end of "Phonka?"
---
Monday 15 March 2021
Episode 6
MaMlambo's woes about being on social media grow. Two love birds find their way to each other again.
Tuesday 16 March 2021
Episode 7
KKC has become a shell of its former self.
Wednesday 17 March 2021
Episode 8
Blood spills at KwaMashu Police station. Mr. Mbatha corners abazalwane into cleaning the church. Nonka stands up to Mrs. Nhlapho.
Thursday 18 March 2021
Episode 9 
MaNgcobo's setbacks seem to be creating more problems meanwhile Mr Mbatha puts plan to action and Phelelani thinks he's found a solution for his troubles.
Friday 19 March 2021
Episode 10
MaNgcobo tries to strike a deal with Raphael, but this proves to be a difficult mission. MaMlambo finds an ingenious way to get followers. Nonka finds herself fighting a battle she did not envisage.
---
Monday 22 March 2021
Episode 11
An enemy is catching up to MaNgcobo's plan. Mr. Mbatha shocks everybody at KKC's 24-hour service. Nosipho has no time for love birds.
Tuesday 23 March 2021
Episode 12
MaNgcobo gets the ball rolling on the heist. MaMkhize (played by Shauwn Mkhize) uses force to disperse Church Members. MaMlambo is cyberbullied.
Wednesday 24 March 2021
Episode 13
Mpambani is in hot water for taking the law into his own hands. Nonka finds herself babysitting.
Thursday 25 March 2021
Episode 14
Mr. Mbatha gets the shock of his life. Nosipho cracks the whip with the salon ladies. An oblivious Nkunzi is planning a surprise for MaNgcobo.
Friday 26 March 2021
Episode 15
Mpambani resorts to unethical ways to try and find out Nkunzi's heist plans. The church is dealt with another huge blow. The salon suffers after Sbu and Fikile's ordeal.
---
Monday 29 March 2021
Episode 16
Sbu finds himself in dangerous territory. MaMlambo's efforts at embracing social media are finally starting to pay off and with Mbatha's failed attempts at saving KKC, the church folk pull in different directions.
Tuesday 30 March 2021
Episode 17
Mageba wants the details of the heist. MaMlambo starts consulting online. Nonka comes up with a great suggestion for the salon.
Wednesday 31 March 2021
Episode 18
Raphael has an official date for the heist to take place. Zekhethelo approaches Mpambani, raising eyebrows while Kotini is tricked into meeting up with Fikile.