Advertisements
Binnelanders is a South African Afrikaans soap opera that centers around the lives of patients and doctors in and surrounding Binneland Kliniek, an up-market private hospital in Pretoria. It features the trials, trauma and tribulations of the staff and patients of the hospital. The series is produced by Friedrich and Elsje Stark of Stark Productions.
Premiere episodes of Binnelanders air on kykNET Mondays to Fridays at 19h30. The omnibus airs on kykNET on Saturdays from 09h30.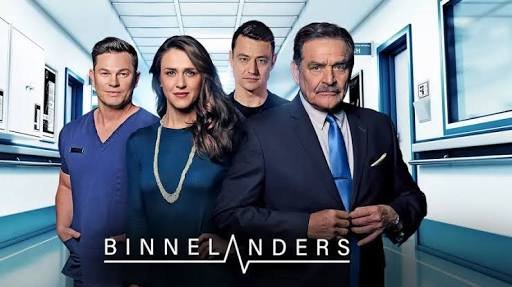 Monday 2 November 2020
Episode 106/3649
Jonas' call comes at just the right time, and Rita decides to move into the cottage. Young love gets some attention – but it isn't the type that Ruan was hoping for. Chanel's theory becomes a reality for her, while Conrad and Tertius are unsure about what to do with a patient.
Advertisements
Tuesday 3 November 2020
Episode 107/3650
Jonas makes Esra feel very guilty with his subtle manipulation, and everyone wonders about Rita's home circumstances. Ruan thinks he has found a way to get through to Cindy, while a heartbroken Chanel decides to move on with her life.
Wednesday 4 November 2020
Episode 108/3651
Piano lessons in the Abrahams household get exhausting, and a family member of Tertius pitches up unexpectedly in Pretoria. Esra is feverishly looking for ways to help Jonas, while Ruan begins to realise that he has made promises that he might not be able to keep.
Rita knows exactly who she blames for all the problems, while Chanel comes to a new realisation.
Thursday 5 November 2020
Episode 109/3652
Esra and Jonas' stories fascinate Koos, and Danny discusses Chanel with Julia. Hugo is caught off guard by a conversation, while Steve knows he is going to have to talk to Ruan about his expectations. Tertius is stunned more than once by his father's actions, and Maya talks to Chanel about the end of a relationship.
Friday 6 November 2020
Episode 110/3653
Jonas' true – and cruel – colours shock Rita to the the depths of her core, and Tertius paints a cold picture regarding his parents to Annelize. Hugo asks Steve to talk to Danny about the newest developments, while Esra doesn't want any part of a new plan.
---
Monday 9 November 2020
Episode 111/3654
Naomi finds out the truth regarding a relationship, while Esra struggels to voice what is pressing on his heart. Danny's night turns out a lot different than what he was prepared for. Elana sees a lot of herself in Ruan, and a stunned Tertius hears that his mother has been brought to ER with his father.
Tuesday 10 November 2020
Episode 112/3655
Ruan has figured out a plan for the talent night, and Chanel has no other choice but to play along with Naomi's plan. Tertius has a lot of irons in the fire, while Esra has to see Conrad about Jonas.
Wednesday 11 November 2020
Episode 113/3656
Tertius is determined to find the unknown woman, while a medical representative doesn't make a good first impression. Naomi's quizz night doesn't start off great, and then a decision needs be made about Esra.
Thursday 12 November 2020
Episode 114/3657
The answers that Tertius were looking for upset him tremendously, while he also has to decide how to make sense of the new information. Naomi is interested in Elise's world, while Elise is reminded of the 'good old days'.
Friday 13 November 2020
Episode 115/3658
Julia and Hugo have to answer the question of what last night meant, while a new riddle – and information regarding Koos – comes to light. Annelize wants Conrad's support when it comes to business – and Elise thinks she can help!
Advertisements
Elana shares good news with Steve, while Annelize witnesses something very strange. Esra makes a discovery that pulls the puzzle pieces closer.
---
Monday 16 November 2020
Episode 116/3659
New information about Rita might shine a light on Jonas' fate, and Elise has a new plan regarding Annelize. Tertius' suspicions regarding Wendy increase, while Naomi feels hurt by Chanel's silence. A big decision is made in Hugo's flat, and it becomes clear that Esra hoards more answers.
Tuesday 17 November 2020
Episode 117/3660
A life insurance policy's payment makes Tertius very uncomfortable, but it isn't the only lead in a much bigger plot. Naomi and Maya predict problems for Elise's plan, and Louis tries to discuss a sensitive subject with his wife.
Wednesday 18 November 2020
Episode 118/3661
Annelize has had it with Esra, while Tertius confronts Wendy with his theory. An invite causes trouble for a couple, and Elise's second chance means that she has to step over the boundaries. Rita receives unexpected news, while Maya voices her concerns to Tertius.
Thursday 19 November 2020
Episode 119/3662
Steve prepares himself for the worst when he shares Hugo's news with Lexi, while Wendy, in her search for meaningful answers, turns to Esra. Elise's relationship with Annelize suffers another blow, while Tertius is confronted with a strange question.
Friday 20 November 2020
Episode 120/3663
Elise feels her days are numbered and starts making plans if her current situation doesn't improve. Esra wonders what will happen to Rita, while Naomi and Louis are not the only couple discussing plans for the future. Elana has doubts about her impulsive invitation, and a confession stuns Wendy and Tertius.
---
Monday 23 November 2020
Episode 121/3664
Okkie and Ilse realise what the kids are up to, and Maya tries to help Tertius make sense of what is happening. Elise takes the wind out of Naomi's sails, and Tertius and Koos have a very honest conversation. Hugo discusses a suggestion with Julia, while Julia talks to Hugo about Selma.
Tuesday 24 November 2020
Episode 122/3665
Elana is stressed about the dinner date, and Elise feels intimidated by Naomi. Julia has an answer for Hugo, while Tertius has no desire to meet the new family. Louis' words causes doubt with his wife, and Annelize has a new dream that is taking shape.
Wednesday 25 November 2020
Episode 123/3666
Faf's unexpected arrival causes more tension in the corridors of Binneland Clinic, while a situation in ER shows the difference between Elise and Naomi. Julia receives an upsetting call, while Annelize's search isn't very fruitful.
Thursday 26 November 2020
Episode 124/3667
Elise is shocked in the news that she receives, and Hugo tries to calm Julia before her appointment. Conrad is not happy with Faf's idea, while Annelize is determined to find her half-brother. Ruan and Vicky get anxious when Rachel Dembe confronts Conrad.
Friday 27 November 2020
Episode 125/3668
Elana thinks that she must take charge of a situation because Conrad has too much to handle at present, and an announcement doesn't just draw a line in the sand – it makes everyone suspicious.
Hugo discusses someone else's private matter with a collegue, while Naomi's patient's circumstances is more complicated than what she assumed. Conrad words his very strong opinion of Annelize, while Maya can't understand her dad's motives.
---
Monday 30 November 2020
Episode 126/3669
Elana tries to get through to Julia, and Tertius warns Annelie about Maya's questions. Naomi and Conrad have a huge confrontation regarding her patient, while Faf is confronted about his decision. Rachel lays her heart bare to Elana, and Julia surprises Hugo with her honesty.
Advertisements