Advertisements
Brendon Daniels (born 1974 in Cape Town) is a South African actor known to TV audiences for his roles in the series Vallei van Sluiers, Die Francois Toerien Show and Die Boland Moorde.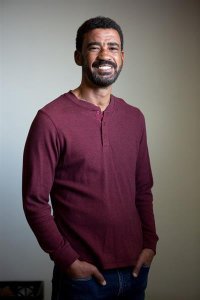 Career
The Young Lions, Heaven, Dollars and White Pipes, End of the Road, Fleisch, Master Harold and the Boys, I Now Pronounce You Black and White, The Abyss Boys, Agter die Berge, Black Butterflies, Four Corners, Zulu, and iNumber Number are just a few of the movies in which Brendon has starred. He has also appeared in other movies like Agter die Berge, Black Butterflies, Zulu, and Agter
Advertisements
He has appeared on stage in the productions Babbel and Lot as well as Die Generaal and Rooiland, all of which were directed by Jaco Bouwer. He received the Best Actor KKNK and kykNET Fiesta awards in 2012 for his performance in Rooiland.
Brendon Daniels has also performed in the plays From Kho Khoi to Toi Toi, Ladies Night, Bacchus of die Boland, The Joseph and Mary Affair, Om Soos 'n Lyk te Le, and Anthony and Cleopatra by Marthinus Basson, Snuf in die Neus (directed by Francois Toerien), and Skollies (directed by Leon Kruger).
Advertisements
In addition, Brendon has made numerous appearances in advertisements for companies like Caltex, Shoprite, Mweb, The Daily Voice, The Cape Town Fish Market, the Wild Bean, and Independent Newspapers.
Brendon Daniels portrayed Adjudant-offisier Shane Williams in the 2013 kykNET crime anthology series Die Boland Moorde (The Boland Murders), which was one of the show's primary cast members.
Net Worth
He has an estimated net worth of $200,000 which he has earned as an actor.
Advertisements