Advertisements
Darren Kelfkens (born 18 July 1964) is a South African actor, director and voice artist known for his role as Joe Smith on the M-Net soap opera Egoli: Place of Gold.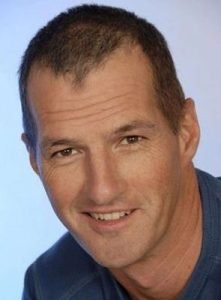 Darren Kelfkens Age
He was born on the 18th of July 1964 in Cape Town, South Africa. As of 2023, he is 59 years old and celebrates his birthday on July 18th every year.
Career
Darren Kelfkens gained his first professional experience in all three major mediums: television, film, and theater, in 1991. He began appearing in advertisements on television, and in the theatre, he starred in Sheila McCormick's production of There's a Girl in My Soup, and he also made a cameo appearance in Dirk de Villiers' comedy film Kalahari Harry.
In 1996, Darren hosted RCI Escapes and was cast as a supporting character in The Adventures of Sinbad, in which he starred for two seasons.
Advertisements
He won his breakout role in 1997, the character of Joe Smith in Egoli, after doing roughly 100 auditions a year and getting rejected about as many times. He played the character until the show's penultimate season in 2008.
In 2009, he appeared in the SABC3 series Unsung Heroes and the e.tv soapie Rhythm City as a guest star.
Since his debut in 1991, Kelfkens has been in a variety of films, including Day Trip (1995), The Cape of Storms (1996), From Dusk 'til Dawn 2 (1997), and The Bang Bang Club (2009).
Darren began his training as a director in 2004 under Egoli's Head Director, Ken Leach. He directed approximately 120 episodes of Egoli between 2005 and 2009, using both single-cam and multi-cam setups.
He was in charge of the artistic direction of the entire production, including cinematography, acting, crew, and the art department. Editing was part of his post-production work.
Darren Kelfkens Net Worth
He has an estimated net worth of $150,000 which he has earned as an actor.
Advertisements