Dingaan Thobela (born 24 September 1966) is a former professional boxer, a former two time lightweight world champion and a former super middleweight world champion.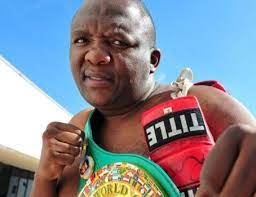 Dingaan Thobela Age
He was born on the 24th of September 1966 in Soweto, South Africa. As of 2021, he is 55 years old and celebrates his birthday on September 24th every year.
Career
Thobela, also known as "The Rose of Soweto," turned professional in 1986 and won the WBO Lightweight Championship in 1990 after defeating Mauricio Aceves.
He resigned the championship after three successful defenses and challenged WBA Lightweight Champion Tony Lopez in 1993, but lost a contentious decision. Later that year, he fought Lopez again and won the title on a decision.
He lost the title in his first defense to Orzubek Nazarov, and he lost a rematch to Nazarov in 1994, both while struggling to make the weight. Shortly after, in a non-title fight, he stopped WBF junior welterweight champion Kenny Vice.
Net Worth
He has an estimated net worth of $500,000 which he has earned as a professional boxer.