Elif is a Turkish novela dubbed into Afrikaans and tells the story of a six-year-old girl who, like so many small girls, finds herself thrust into circumstances she didn't ask for, at the mercy of self-involved adults.
Her mother Malek secretly delivers her to the wealthy Emiroglu household, where she will grow up, as her mother did, as a servant on the farm.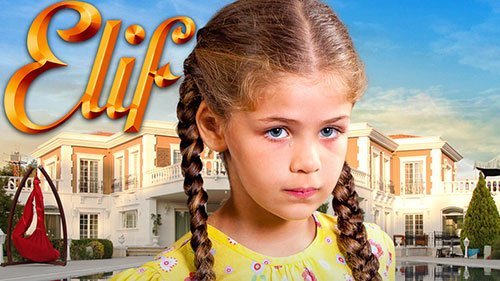 Thursday 1 October 2020
Episode 14
Melek spends the night in Ayse's cottage. Arzu fears that she will get caught for ruining Kenan's car.
Friday 2 October 2020
Episode 15
Selim's fondness and concern for Zeynep proves helpful when she is caught in a predicament at work. Ayse is torn whether she needs to disclose the truth about the identity of Elif's father.
---
Monday 5 October 2020
Episode 16
Ayse finds out Arzu and Ailye plan to send Elif to an orphanage but Kenan puts a stop to their insidious plan. Veysel continues his search for Elif.
Tuesday 6 October 2020
Episode 17
Kenan is taking Elif home but Azru puts a stop to his plan. Murat and Veysel play the heroes but threaten Ayse for money or they want Elif.
Wednesday 7 October 2020
Episode 18
Aliye tries to regain control of the estate and land. Arzu and Gonca will go to any length to get rid of Ayse and Elif.
Thursday 8 October 2020
Episode 19
Ayse leaves the farm with Elif with nowhere to go. Kenan refuses to believe that Ayse is a thief.
Friday 9 October 2020
Episode 20
Azru is very chuffed with herself and extermely friendly with Elif, not everyone falls for this change of heart. There is a new guy in town asking questions about the farm and the family. Who could this be?
---
Monday 12 October 2020
Episode 21
Will Elif survive her fall? Arzu is trying her best to keep Kenan and Melek from seeing each other. Ayse feels responsible for the accident and Murat and Veysel take on a new adventure.
Tuesday 13 October 2020
Episode 22
Melek, Ayse is in hospital hoping that the doctors can save Elif. The police are investigating, Arzu is on thin ice and Elif beats the odds but is still unconscious. Arzu plans a second attempt to take Elif's life.
Wednesday 14 October 2020
Episode 23
Veysel is an unlikely hero. With Elif finally awake, Arzu starts to feel the heat. Melek is confinced she's the only one who can keep her daughter safe, but Ayse convinces her otherwise.
Thursday 15 October 2020
Episode 24
Not everyone is equally relieved to have Elif back on the farm. Arzu enlists Gonca to help cover her tracks. Meanwhile Murrat and Veysel start their own investigation and get a spy on their side.
Friday 16 October 2020
Episode 25
Azru is on a mission to find out who left a note in her room. Tugce has a nasty fall while trying to hide a dollhouse she took from Elif. Kenan and Aliye have a fall-out and he storms out of the house and sees a familiar face.
---
Monday 19 October 2020
Episode 26
Veysel blackmails Arzu while Melek finally decides to fight for Elif no matter the cost. And who is the woman Kenan catches a glimpse of?
Tuesday 20 October 2020
Episode 27
Elif starts to speak again but does she reveal what happened to her and who is responsible? Azru and Veysel do an exchange. Kenan is on a mission.
Wednesday 21 October 2020
Episode 28
Gonce spills old secrets to Veysel, which changes everything. Arzu's anger reaches new heights, and Ayse gets desperate to help Melek. Will they be able to reach Elif before she gets hurt again?
Thursday 22 October 2020
Episode 29
Arzu pays Veysel a visit… little does she know the walls have eyes. Kenan is a few steps closer to identifying the mysterious car. Selim notices Ayse is out of sorts and offers a helping hand.
Friday 23 October 2020
Episode 30
Arzu is being pushed over the edge, which makes Elif's suffering worse than ever. Veysel's blackmailing puts him on a power trip, what will his meeting with Kenan cause?
---
Monday 26 October 2020
Episode 31
Zeynep fears for Melek's life as she ventures off from home again. Kenan can't shake the feeling that the girl at the door looks familiar.
Tuesday 27 October 2020
Episode 32
A "friend" of the family seeks to sabotage the Emiroglu business. Will Melek be able to find safety from Veysel? Arzu is still on her mission to get rid of little Elif.
Wednesday 28 October 2020
Episode 33
Arzu's plan to get rid of Elif is under way. Kenan faces some issues regarding his crops. Zeynep is followed by a strange man.
Thursday 29 October 2020
Episode 34
All Arzu's plans to get money for Veysel go wrong… what is she going to do? Erkut suggests a new business venture to Veysel, which makes him more determined to get money from Arzu.
Friday 30 October 2020
Episode 35
Arzu's desperation is getting her deeper into trouble. Selim treats the girls to a day out. Will Tugce's bad attitude lead to Elif and Melek finally reuniting?