Advertisements
Elif is a Turkish novela dubbed into Afrikaans and tells the story of a six-year-old girl who, like so many small girls, finds herself thrust into circumstances she didn't ask for, at the mercy of self-involved adults.
Her mother Malek secretly delivers her to the wealthy Emiroglu household, where she will grow up, as her mother did, as a servant on the farm.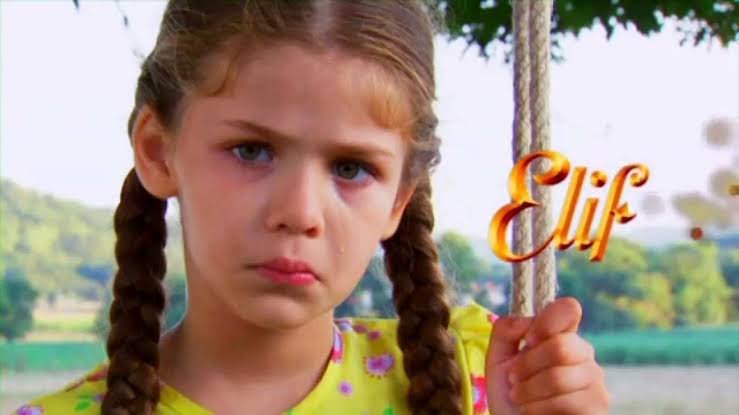 Monday 1 February 2020
Episode 101
Zeynep and Selim try their best to compromise as Elif struggles to make sense of her circumstances. Melih tries to find answers regarding Melek's situation. Erkut pulls a clever business move.
Advertisements
Tuesday 2 February 2020
Episode 102
Nadir is on a warpath with Erkut and Seyda, how will this end. Will Elif recover and is Zeynep and Selim on their way to big love. Will Arzu's plan blow-up in her face again?
Wednesday 3 February 2020
Episode 103
Nadir threatens Erkut and Seyda when they let him down. What is Erkut up to when he decides to go and visit the farm? Melih is once again infuriated with the Emiroglu family when he speaks to Kenan about his marriage to Melek.
Thursday 4 February 2020
Episode 104
Erkut's plans to kidnap Elif go a bit south, while Selim not only has a race against time to find her, but also has to navigate his way through a web of lies. Melek gets a bad omen about Elif and makes plans to see her.
Friday 5 February 2020
Episode 105
Wil Erkut's plan to blackmail Selim solve his financial troubles and will Elif be returned to her family in one piece? Will Melek see her daughter and will Melih get the answers he has been looking for?
---
Monday 8 February 2020
Episode 106
Elif pays Melek a visit for the first time. Wessel and Murat celebrate their found jackpot. Selim tries to get to the bottom of Elif's abduction.
Tuesday 9 February 2020
Episode 107
While Ipek's exhibition is a success, it is not without incident. Melih's fearlessness gets him into deep trouble and Selim is taken by surprise when he is a witness to Arzu's schemes.
Wednesday 10 February 2020
Episode 108
Will Melih survive what happened to him? Kenan tries to notify Melih's family but without success. Belkis shows the woman in jail who the real boss is, while Melek is trying to befriend Elmas.
Thursday 11 February 2020
Episode 109
Will Melih survive what happened to him? Ipek is devestated when she hears the news that Melih is in hospital. The family has a lot of questions. What wil Arzu do when she finds out that Selim knows who Elif really is? Belekis hatred for Melek takes a turn for the worst.
Advertisements
Friday 12 February 2020
Episode 110
Arzu is very worried when she finds out that Selim knows Elif's identity. Melek is in a critical condition after an attack by her inmates, while Melih is also fighting for his life in hospital.
---
Monday 15 February 2020
Episode 111
Melek manages to make a clandestine call to Elif from hospital. Kenan invites Melih home with them to convalesce, but the good intentions blow up in his face.
Tuesday 16 February 2020
Episode 112
Arzu makes a breakthough regarding Melih's mystery. Kenan cannot stop thinking about Melek. What will his next move be?
Wednesday 17 February 2020
Episode 113
Erfruz saves Melih from difficult questions the Emiroglu family wants answered. Can Selim and Zeynep keep their secrets any longer when Kenan tries to find out what happened to Melek and why she is in prison. Arzu decides to take control of Tugse's upbringing.
Thursday 18 February 2020
Episode 114
Arzu has big plans for how Tugce spends her time. Erkut needs money and Veysel is enjoying his new found wealth too much and keeps a tight fist when having to pay people which leads Sakir teaching him a lesson.
Friday 19 February 2020
Episode 115
Murat is very upset that Veysel takes Selim's side and not his and Erkut cashes in on this. Arzu gets close to getting rid of Veysel and Elif, but Erkut is an unexpected spoke in the wheel. Melek receives a gift, which is destroyed in a fit of rage by Belkis.
---
Monday 22 February 2020
Episode 116
Erkut has big plans which involves Arzu, but Seyda doesn't agree with him. Arzu warns Elif that she should stay quiet about everything that happened. Arzu suspects that Veysel had something to do with the visit that Erkut payed her. Zeynep and Selim share a romantic moment.
Tuesday 23 February 2020
Episode 117
Selim confronts Arzu about her demeanor towards Elif and reminds her she will always be Kenan's daughter. He decides to appoint a nanny to 'protect' Elif from Arzu. Erkut visits Zeynep and is very unhappy to find her boyfriend there as well.
Wednesday 24 February 2020
Episode 118
Arzu stirs things up when she gets Pelin to be her informant. While Tugce gives Burcu a hard time, Arzu also treats her with disdain. Melin is determind to find the drugdealers and Erkut's patience runs dry with Zeynep.
Thursday 25 February 2020
Episode 119
Kenan is on a quest to find out the truth about Melek's arrest. Arzu realises something unsettling about Selim and Zeynep. She then approaches Erkut with a dangerous request.
Friday 26 February 2020
Episode 120
How will Zeynep respond to Selim's big surprize? Will Arzu and Erkut follow through on their plan and has Saadet's long awaited silver lining finally arrived?
https://youtu.be/fS7FNZiYW9c
Advertisements