Gugu Gumede is a popular South African actress that is best known for acting as Mamlambo on SABC1 soapie drama Uzalo. 
She studied drama in the USA. Her landed role is actually the opposite of her real-life personality, though it may still share some similar characteristics with her.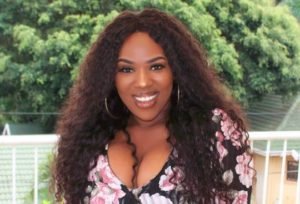 Gugu Gumede Age
She was born on the 10th of December 1992 in KwaZulu-Natal, South Africa. As of 2019, she is 27 years old.
Gugu Gumede Family
She is the daughter of National Freedom Party leader, Zanele KaMagwaza-Msibi.
Gugu's father was chief Hulumeni Simon Gumede and he served as a member of the KZN legislature and was also a member of IFP. He died in a car accident in the year 2007.
Gugu Gumede Twitter
Gugu Gumede Profile
BIRTH NAME: Gugu Gumede
DATE OF BIRTH: 10th of December 1992
PLACE OF BIRTH: KwaZulu-Natal
OCCUPATION: Actress
PARENTS: Zanele kaMagwaza-Msibi (Mother) and Simon Hulumeni Gumede (Father)