Advertisements
Hage Geingob (born 3 August 1941) is the third and current president of Namibia and he has been in office since 21 March 2015.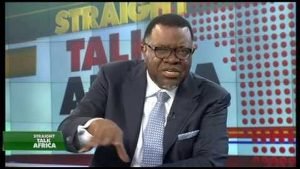 Hage Geingob Age
Hage Geingob was born on the 3rd of August 1941 in in Otjiwarongo, South West Africa (present day Namibia). As of 2023, he is 82 years and celebrates his birthday on August 3rd every year.
Education
He acquired his early schooling in the Bantu Education System in Otavi, South West Africa.
In 1964, Geingob moved to the United States to pursue a scholarship at Temple University in Philadelphia, Pennsylvania. In 1970, he received a BA from Fordham University in New York City, and in 1974, he received an MA in International Relations from the Graduate Faculty of The New School in New York.
Hage Geingob Wife
Hage Geingob married New York City native Priscilla Charlene Cash in 1967, and the pair produced one daughter, Nangula Geingos-Dukes. On September 11, 1993, in Windhoek, Geingob married Loini Kandume, a businesswoman, in a high-profile marriage that produced two children: a daughter and a boy.
In May 2006, Geingob filed for divorce from Kandume, and in July 2008, he was granted a temporary divorce order. On February 14, 2015, Geingob married Monica Geingos. In Windhoek, the Hage Geingob Rugby Stadium is named after him.
Career
In 1972, Geingob was hired as a political affairs officer to the United Nations Secretariat, a position he held until 1975, when he was named director of the United Nations Institute for Namibia.
He was elected by SWAPO's Politburo to lead the party's election campaign in Namibia in 1989. To complete this mission, he returned to Namibia with many of his colleagues on June 18, 1989, after a 27-year hiatus.
Advertisements
On March 21, 1990, Geingob was sworn in as the Republic of Namibia's first Prime Minister, and on March 21, 1995, he was sworn in for a second term.
On November 28, 2014, Geingob was elected President of Namibia with 87 percent of the vote. On the 2nd of November 2019 Geingob was reelected with 56.3% of the vote.
Awards
In 1980, awarded the Palmes Academiques (Officer Class) by the French Government in recognition of valuable services in education.
In 1987, awarded Omugulugwombashe Medal (SWAPO) for bravery and long service.
In 1994, awarded LL.D. Honoris Causa by Columbia College, Illinois.[29]
In 1994, awarded the second highest order in Cuba, Carlos Manuel de Céspedes.
In 1994, awarded the Order of the Sun, 1st Class by the Government of Namibia for providing outstanding political leadership.
In 1995, awarded LL.D. (Doctorate of Laws) Honoris Causa by the University of Delhi, India.
In 1997, awarded LL.D. (Doctorate of Laws) Honoris Causa by the University of Namibia.
In 1998, awarded Doctorate of Humane Letters (Honoris Causa) by The American University of Rome.
In 2001, a new school aimed at educating deprived children was opened in Katutura and named after the president. The Hage G. Geingob High School educates many from the informal settlements around Windhoek.
In 2015, was conferred the Order of the Most Ancient Welwitschia Mirabilis by then-President Hifikepunye Pohamba, upon Geingob's inauguration as Namibia's third President on 21 March 2015
Hage Geingob Net Worth
He has an estimated net worth of $150 million which he has earned as a politician.
Advertisements