Sam Nujoma (born 12 May 1929) is a Namibian revolutionary, anti-apartheid activist and politician who served three terms as the first President of Namibia, from 1990 to 2005.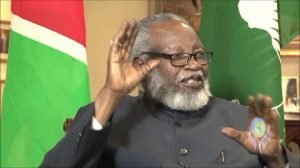 Sam Nujoma Age
He was born on the 12th of May 1929 in Ongandjera, Ovamboland, South West Africa (now Omusati Region, Namibia). As of 2022, he is 93 years old and celebrates his birthday on May 12th every year.
Sam Nujoma Wife
On May 6, 1951, Nujoma married Kovambo Mushimba. Utoni Nujoma (1952), John Nujoma (1954), Sakaria "Zacky" Nujoma (1957), Nelago Nujoma (1959), who died at the age of 18 months when Nujoma was in exile, and Usuta Nujoma (1960) were the couple's children (1964).
Career
Nujoma got interested in politics through trade unions in the early 1950s. He was the first president of the Ovamboland People's Organization (OPO), which he co-founded in 1959. He became the first president of the South West Africa People's Organization the following year (SWAPO).
He was succeeded by Hifikepunye Pohamba in 2007 after 47 years as the leader of SWAPO. It was widely assumed that he would be re-elected as SWAPO leader in 2007 and that he would run for president again in 2009.
When SWAPO won a United Nations-supervised election in 1989, he was unanimously declared president and sworn in by UN Secretary-General Javier Pérez de Cuéllar on March 21, 1990.
Despite resigning from a formal position, Nujoma remains active in politics, routinely campaigning for SWAPO at rallies and festivities across the country. Nujoma graduated from the University of Namibia with a master's degree in geology in 2009.
Net Worth
He has an estimated net worth of $10 million which he has earned as a politician.