Advertisements
Penehupifo Pohamba (born 16 June 1948) is a Namibian educator and politician who was the second First Lady of Namibia while her husband, Hifikepunye Pohamba, was President of Namibia from 2005 to 2015.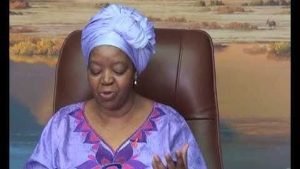 Penehupifo Pohamba Age
She was born on the 16th of June 1948 in Okatale, Ohangwena Region. As of 2023, she is 75 years old and celebrates her birthday on June 16th every year.
Penehupifo Pohamba Husband
She married Malakias Shiluwa at St Mary's Odibo in 1971, and they have one son, Waldheim Shiluwa (born 1972)
In 1983 she married Hifikepunye Pohamba, and they had three children, Tulongeni (born 1986), Kaupumhote (born 1988) and Ndapanda (born 1991), who was born shortly after independence.
Advertisements
Career
Pohamba battled for the eradication of violence and other types of injustice against women during her time as First Lady, advocating for women's empowerment so that they can contribute meaningfully to the development of society.
She has also been a strong advocate for maternity and child health, as well as HIV/AIDS prevention. Penehupifo Pohamba was appointed Vice-President of the Southern Africa Development Committee in July 2006. (SADC).
She completed her training in Tanzania and Jamaica and now works as a professional midwife. She worked as a midwife and registered nurse before her husband was elected president. She is also a patron of the Lady Pohamba Private Hospital in Johannesburg (LPPH).
Net Worth
She has an estimated net worth of $2 million which she has earned as a politician.
Advertisements