Hifikepunye Pohamba (born 18 August 1936) is a Namibian politician who served as the second President of Namibia from 21 March 2005 to 21 March 2015.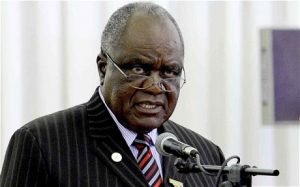 Hifikepunye Pohamba Age
He was born on the 18th of August 1936 in Okanghudi, South West Africa (now Namibia). As of 2021, he is 85 years old and celebrates his birthday on August 18th every year.
Hifikepunye Pohamba Wife
In 1983 he married Penehupifo Pohamba, and they had three children, Tulongeni (born 1986), Kaupumhote (born 1988) and Ndapanda (born 1991), who was born shortly after independence.
Career
He ran SWAPO's 1989 election campaign and was a member of the Constituent Assembly from November 1989 to March 1990, before becoming a member of the National Assembly in March 1990, when the country gained independence.
From March 1990 to 1995, he served as Minister of Home Affairs, then Minister of Fisheries and Marine Resources, then Minister without Portfolio from 1997 until March 2000.
In 1997, he was elected secretary-general of SWAPO, and in 2002, he was elected vice-president. In addition to his previous ministerial positions, he was appointed Minister of Lands, Resettlement, and Rehabilitation on January 26, 2000, a role he held until becoming President in 2005.
At an extraordinary party meeting in May 2004, Pohamba was chosen as SWAPO's presidential candidate for the 2004 election.
Pohamba was elected as SWAPO President during a party convention on November 29, 2007; he was the only candidate nominated, thus no voting was required. "I am passing the torch and mantle of leadership to comrade Pohamba," Nujoma stated. Pohamba was also chosen as the party's sole presidential candidate for the 2009 election by the congress.
Pohamba received 611,241 votes in the November 2009 presidential election, giving him a second term (76.42 percent).
Hifikepunye Pohamba Net Worth
He has an estimated net worth of $10 million which he has earned as a politician.