Lillian Dube (born 22 October 1945) is a South African actress known for her role as Sister Bettina in the SABC1 drama series Soul City, from 1994-2009.
She is also best known for portraying the role of Masebobe in the soap opera Generations.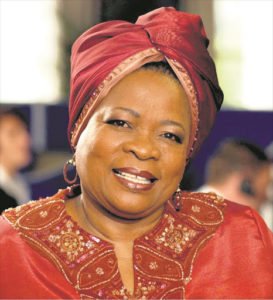 Lillian Dube Age
She was born on the 22nd of October 22, 1945. Lillian Dube is 74 years old as of 2019.
Son
She is the mother of Desmond Dube who is also an Actor and South African celebrity.
Career
Lillian had a starring role as Koko K in the SABC1 sitcom My Perfect Family, in 2011. She also featured in the second season of the SABC3 drama series The Lab, in 2008, and created, produced and starred in the SABC2 sitcom Skwizas.
Lillian portrayed the role of Mme Motsatse in the short film The Ring. She also played the role of Masibobe on the SABC1 soapie Generations.
Movies
Mapantsula (1988)
Sweet 'n Short (1991)
There's a Zulu On My Stoep (1993)
A Good Man in Africa (1994)
Cry, the Beloved Country (1995)
In My Country (2004)
Oh Schuks… I'm Gatvol (2004)
Cape of Good Hope (2004)
Fanie Fourie's Lobola (2013)
The Forgotten Kingdom (2013)
Mia and the White Lion (2018)