Ayanda Dlodlo (born 22 May 1963) is a South African politician and was appointed as Minister of Public Service and Administration on 27 February 2018.
She was the Minister of Home Affairs of the Republic of South Africa from 17 October 2017 till 26 February 2018.
Ayanda is a member of the African National Congress (ANC) and also a Member of Parliament.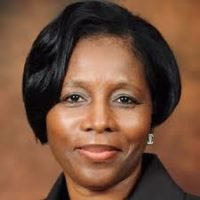 Ayanda Dlodlo Age
She was born on the 22nd of May 1963 in South Africa. Ayanda Dlodlo is 57 years old as of 2020.
Ayanda Dlodlo Husband
Her husband was Theophilus Dlodlo who was killed in May 1987.
Son
She has a son called Thabang Mnisi.
Positions Held
Currently
Minister of Public Service and Administration at National Assembly (Parliament) since 26th February 2018
Member at National Assembly (Parliament) since 21st May 2014
Constituency Contact at ANC Constituency Office (661): Plettenberg Bay (Constituency Office) since 21st May 2014
Member at African National Congress (ANC) (Party)
Formerly
Minister of Home Affairs at National Executive (Executive) from 17th October 2017 until 26th February 2018
Minister of Communications at National Executive (Executive) from 30th March 2017 until 17th October 2017
Deputy Minister of Public Service and Administration at National Executive (Executive) from 26th May 2014 until 30th March 2017
Member-elect at National Assembly (Parliament) from 16th May 2014 until 21st May 2014
45th Candidate at African National Congress National Election List 2014 (Election List) from 22nd April 2014 until 7th May 2014
Constituency Contact at ANC Constituency Office (337): Fetakgomo (Constituency Office) from 10th May 2014 until 6th May 2014
Member at National Assembly (Parliament) from 6th May 2009 until 6th May 2014
Member at Ethics and Members' Interest (Joint Committees) until 6th May 2014
Constituency Contact at ANC Constituency Office (337): Fetakgomo (Constituency Office) until 6th May 2014
Deputy Minister of Public Service and Administration at National Executive (Executive) from 31st October 2010 until 24th April 2014
Twitter