Iman Rappetti (born 4 April 1985) is a veteran writer, journalist, senior anchor, and MC. With many awards, she is one of the most sought-after authors in South Africa.
Her talents and innovation have earned her many career positions. She worked as a senior anchor for eNews Channel Africa (eNCA) for over ten years.
She has interviewed many prominent personalities in South Africa, including Jacob Zuma and Thabo Mbeki. She is one of few notable media personalities in Africa like Aisha Salaudeen.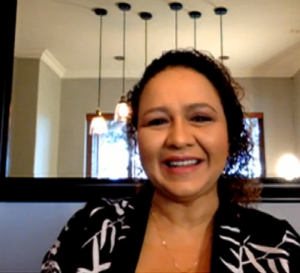 Early Life
Iman Rappetti was born on the 4th of April 1985 in Phoenix, Durban, South Africa. Her name Iman translates to Faith, although it isn't her first name.
She comes from a family of mixed ethnicity. Iman Rappetti is a daughter of a colored mother and an Indian father.
Her parents named her Vanessa Lena Rappetti. Iman is the last-born child of her parents and the youngest of five.
She had a bitter childhood experience.
Education
Iman Rappetti attended Lenarea High School in Phoenix, Durban, South Africa. After matric, she studied at ML Sultan Technikon.
Career
Rappetti began to report in South Africa before moving to the Islamic Republic of Iran. She was a TV personality on a current affairs television show for the state broadcaster for two years.
Later, she returned to South Africa and worked for SABC for three years. With time, she landed a job as an editor at Business Day.
Iman has also worked for other top organizations like Talk Radio 702, eNews Channel, and News Night. Currently, she hosts the popular show on Power FM, Power Talk.
She is the author of the memoir Becoming Iman. She wrote the book with an often wry and saddening sense of humor.
As an author, she has written for many publications and books. In the book Early Days In Phoenix, she inspired many through her writing. She tries to encourage readers to stand up for who they are.
Through her writings, Iman tells her view of the hardships and triumphs of places in South Africa.
Personal Life
Iman Rappetti converted to Muslim after traveling to Iran with her husband. She enjoys telling stories about the hardships and triumphs of South African communities.
Net Worth
Iman Rappetti is a veteran journalist in South Africa and Africa. She has worked for many top media companies earning her a fortune and a reputation. She has an estimated net worth of US$300,000.